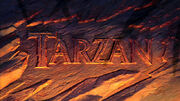 Special Edition
Opening Logos
Opening Credits
Walt Disney Pictures Presents
A Hanna-Barbera / Amblin Entertainment Production
"Tarzan"
Ending Credits
Directed by: Kevin Lima and Chris Buck
Produced by: Bonnie Arnold and John McKimson
Executive Producers: Dave Felling
Based on the story "Tarzan of the Apes" by: Edgar Rice Burroughs
Screenplay by: Tab Murphy, Bob Tzudiker and Noni White
Songs by: Phil Collins
Score Composed by: Mark Mancina
Associate Producer: Christopher Chase
Art Director: Daniel St. Pierre
Production Designer: Saul Bass
Edited by: Gregory Perler
Artistic Supervisors
Associate Art Director: Dan Cooper
Story: Brian Pimental, Jeffrey Lynch
Character Design: Saul Bass
Layout Artists: Jean-Christophe Poulain, William H. Frake, III
Backgrounds: Doug Ball, Dennis Venizelos
Animation: Tony Fucile
Clean-Up Animation: Marshall Lee Toomey, Lureline Kohler
Visual Effects Animation: Peter DeMund, Allen Foster
Computer Animation: Eric Daniels, Tad Gielow
Production Managers: Jean-Luc Florinda, Amy Richards
Executive Music Producer: Chris Montan
"You'll Be in My Heart" (Phil Collins' Version)

Produced by Rob Cavallo and Phil Collins
Performed by Phil Collins
Recorded by Elliot Scheiner
Mixed by Chris Lord-Alge

Artistic Coordinators: Fraser MacLean, Scott F. Johnson
🍸Paris Unit Supervisors🍸
Layout: Olivier Adam, Anthony Christov
Background: Joaquim Royo Morales, Donald Towns
Animation: Paul J. Kelly
Clean-Up Animation: Christophe Charbonnel, Peter Donnelly
Visual Effects Animation: Allen Blyth, Brain McSweeney
Production Managers: Coralie Cudot-Lissillour, Brett Hayden
🥫Caps Supervisors🥫
Scene Planning: Thomas Baker, Steven Wilzbach
Animation Check: Barbara Wiles, Janet Bruce
2-D Animation Processing: Robyn L. Roberts, Irene M. Gringeri
Color Models: Karen Comella, Tania Francisco
Paint/Final Check: Sarah Jane-King, Hortensia M. Casagran
Compositing: James "JR" Russell, Dennis Bonnell
Digital Film Print: Brandy Hill, Mark Dinicola
Technical Coordinators: Ann Tucker, Kim Petterson
🍟Story🍟
Stephen Anderson, Mark Kennedy, Carole Holliday, Gaëtan Brizzi, Paul Brizzi, Viki Anderson, Don Dougherty, Ed Gombert, Randy Haycock, Don Hall, Kevin Harkey, Glen Keane, Burny Mattinson, Frank Nissen, John Norton, Jeff Snow, Michael Surrey, Larry Scholl, Christopher J. Ure, Mark Walton, Stevie Wermers-Skelton, Kelly Wightman, John Ramirez
Additional Screenplay Material by: David Reynolds and Jeffrey Stepakoff
🍦Visual Development & Character Design🍦
Ken Turner, Chen-Yi Chang, Guy Deel, Peter de Sève, Vance Gerry, Jean Gillmore, Joe Grant, Ian S. Gooding, Brian Jowers, H.B. (Buck) Lewis, Rick Maki, Henry Mayo, Sergio Pablos, Teddy Newton, Tina Price, Jeffrey Resolme Ranjo, Harald Siepermann, John Watkiss, Rowland B. Wilson
Principal Location Designers: Paul Felix, Loïc Rastout, Emil Mitev, David A. Dunnet
🫒Layout🫒
Journeymen: James P. Alles, James Beihold, John Byrne, Frederick J. Gardner, III, Fred Craig, Vincent Massy de la Chesneraye, Emil Mitev, Pierre Fassel, Lisa Souza, Richard Carl Livingston, Antonio Navarro, Bill Thyen, Simon O'Leary, Mike Hodgson, John Puglisi, Tom Shannon, Allen C. Tam, Sherilan Weinhart, Tanya T. Wilson
Layout Key Assistants: Cent Alantar, Peter J. De Luca, Max Braslavsky, Ray Chen, Denise Blakely Fuller, Robert Cardone, Marec Fritzinger, Craig Elliot, Lam Hoang, Johan Klingler, Denise Louise Klitsie, Mark E. Koerner, Armand Serrano
Layout Assistants: Lissa Jane Ainley, Edgar Carlos, Thomas Debitus, Bryan D. Andrews, James Aaron Finch, Matthieu Gosselin, Norman R. Cabral, Brian Kesinger, Julio Leon, Cheng Lu, David Martin, Birgitta Erja Pollanen, Kory S. Heinzen, Donald Reich, Chung Sup Yoon
Blue Sketch: Madlyn Zusmer O'Neill, Valerie Braun, Mercedes J. Sichon, Monica Albracht Marroquin, Bill Davis, Eithne Ersoz, Irina Goosby, Noel C. Johnson
🥘Character Animation🥘
Tarzan
Supervising Animators: Glen Keane, Richard Bazley
Voice: Tony Goldwyn
Animators: Georges Abolin, Richard Baneham, Pierre Alary, Adam Burke, Marco Allard, Jennifer Cardon, David Berthier, Mike Chavez, Bolhem Bouchiba, Ricardo Curtis, Patrick Delage, Ruth Daly, Eric Delbecq, Jeff Etter, Thierry Goulard, Lauren Faust, Borja Montoro Cavero, Ralph Fernan, Enis Tahsin Özgür, Steve Garcia, Stéphane Sainte-Foi, Lennie K. Graves, J.C. Tran-Quang-Thieu, Russell Hall, Kristoff Vergne, Adam Henry
Jane Porter
Supervising Animators: Ken Stuart Duncan, Bob Davies
Voice: Minnie Driver
Animators: Jared Beckstrand, Doug Bennett, Robert Bryan, Caroline Cruikshank, Ken Hettig, Mark Koetsier, Doug Krohn
Kala
Supervising Animators: Russ Edmonds, Stephen Franck
Voice: Glenn Close
Animators: Mario J. Menjivar, Dougg Williams, Andreas Wessel-Therhorn
Young & Baby Tarzan
Supervising Animators: John Ripa, Tony Fucile
Voice: Alex D. Linz
Animators: Steven Pierre Gordon, Jeff Johnson, Yoshimichi Tamura, Kevin Johnson
Terk
Supervising Animators: Michael Surrey, Greg Manwaring
Voice: Rosie O'Donnell
Animators: Adam Dykstra, Danny Galieote, David Moses Pimentel, Chad Stewart
Clayton
Supervising Animators: Randy Haycock, Steven Markowski
Voice: Brian Blessed
Animators: Tim George, Richard Hoppe, Michael Stocker
Archimedes Q. Porter
Supervising Animators: Dave Burgess, Mike Nguyen
Voice: Nigel Hawthorne
Animators: David Block, Theresa Wiseman
Kerchak
Supervising Animators: Bruce W. Smith, Wendy Perdue
Voice: Lance Henriksen
Animators: Robb Pratt, Marc Smith
Tantor
Supervising Animators: Sergio Pablos, Christopher Sauve
Voice Tantor: Wayne Knight
Voice Young Tantor: Taylor Dempsey
Animators: James Hull, Mike Kunkel, Jean Morel, Stevan Wahl
Sabor
Supervising Animators: Dominique Monfery, Dean Wellins
Animators: Marc Eoche Duval, Ben Jones, Juanjo Guarnido, Ernest Keen, Zoltán Maros, Jae H. Kim
Ape Family
Supervising Animators: Jay Jackson, Nassos Vakalis
Animators: Catherine Poulain, Holger Lelhe
Baboons & Baby Baboon
Supervising Animators: Bruce W. Smith, Chrystal S. Klabunde
Animator: Lane Lueras
Captain & Clayton's Men
Supervising Animators: T. Daniel Hofstedt, Alexander Williams
Animator: Craig R. Maras
Flynt and Mungo
Supervising Animators: Chris Wahl, Dan Wagner
Animator: Roy Meurin
🎂Rough Inbetweeners🎂
Noreen Beasley, George Benavides, Casey Coffey, Neal Stanley Goldstein, Benjamin Gonzalez, Nicolas Keramidas, Brain Larsen, Gary D. Payne, Bob Persichetti, Chris Sonnenburg, Aliki Theofilopoulos, Michael Wu
🍩Backgrounds🍩
Traditional and Deep Canvas
Supervising Digital Background Painter: David McCamley
Journeymen: Jennifer K. Ando, Dominick R. Domingo, Debbie Du Bois, Olivier Besson, Christopher Brock, Justin Brandstater, Hye Young Coh, Scott Fassett, James Finn, Jean-Paul Fernandez, Greg Gibbons, Thierry Fournier, Annie Guenther, Susan Hackett Dalipagic, Joel Parod, Jason Horley, David Wesley Jarvis, Mi Kyung Joung-Raynis, Craig Robertson, William Lorencz, Jerry Loveland, Serge Michaels, Gregory C. Miller, Patricia Millereau-Guilmard, Jonathen Salt, Don Moore, Patricia Palmer-Phillipson, Pierre Pavloff, Nadia Vurbenova, Philip Phillipson, William T. Silvers, Jr., Christophe Vacher, Wel M. Zhao, Thomas Woodington, David Yorke
Background Assistants: Suzanne Kyung Bouhours, Nathan Hughes, Eugene Fedorov, George Humphry, Wendy Lymn
Digital Re-Touch Painters: Christine Laubach, Nancy Olivet Ramirez, Valapa "Oomp" Saubhayana
🍫Clean-Up Animation🍫
Tarzan
Key Leads: Philippe Briones, Eric J. Abjornson
Key Assistants: Serge Bussone, Paul Bauman, Javier Espinosa Bañuelos, Andrew Beall, Florence Montceau, James Burks, Farouk Cherfi, Yelena Geodakyan, Pierre Girault, Wantana Martinelli
Assistants: Laurence Adam-Bessière, Gordon Bellamy, Gerard Brady, Kimie Calvert, Claire Bourdin, Heeja Cho, Christine Chatal-Poli, Yebbi Cho, Jeroen Dejonckheere, Jeffrey Clark, Jérôme Guillaud, David Courtland, Philippe Hooghe, Patrick T. Dailey, Maria Angela Iturriza Freire, Diane Kim, Christine Landes-Tigano, Doug Ninneman, Ludovic Letrun, Shannon O'Connor, Jean-Christophe Lie, Nicole Pascal, Nguyên Dang Long, Michael Polvani, Anne Pellerin, Edward Rivera, Sylvaine Terriou, Matthew Schofield, Pierre Seurin, Yevgenita (Jenny) Suzdaltsev
Breakdown: Oliver Acker, Lalaine Noriega Abrantes, Nicole de Bellefroid, Joe Achorn, Philippe Malka, Cyndy Bohonovsky, Nicolas Ruedy, Wanda L. Brown, Nicolas Quere, Reed Cardwell
Inbetweeners: Valérie Bréand, Miriam Goodman, Bernard Dourdent, Willy Harber, Graham Gallagher, Jameane Harwell, David Gilson, Guadalupe Hernandez, Céline Papazian, Cathlin Hidaigo, Alice Picard, Suzanne F. Hirota, Didier Poli, Martin P. Hopkins, Frédéric Vilquin, Sean Jimenez
Jane Porter
Key Leads: Juliet Stroud-Duncan, Nathelle Gavet
Key Assistants: Jane Tucker Bonnet, Merry Kanawyer Clingen, Wes Chun, Sean Gallimore, Richard D. Rocha, Jacqueline M. Sanchez
Assistants: Teresa Eidenbock, Bernadette Moley
Breakdown: Christenson M. Casugo, Edward B. Goral, Jeffery B. Harter, Chun Yin Joey So, Kathleen Thorson
Inbetweeners: Flora Sungsook Park, Claudi Keene
Kala
Key Leads: June M. Fujimoto, Karenia Kaminski
Key Assistants: Karen Hardenbergh, Celinda S. Kennedy
Assistants: Daniel Yoontaek Lim, Mary Measures
Breakdown: Frank Dietz, Dietz Toshio Ichishita, Allison Renna
Inbetweeners: Kompin Kemgumnird, Kari Pearson Lancaster
Young & Baby Tarzan
Key Leads: Margie Daniels, Marty Korth
Key Assistants: Jamie Kezlarian Bolio, Natasha Dukelski Selfridge
Assistants: Kevin M. Grow, Rick Kohlschmidt
Breakdown: Nickolas M. Frangos, Cathie Karas Wilke, Cynthia Landeros
Inbetweener: Nicole Yvette Lang
Adult & Baby Terk
Key Leads: Debra Armstrong-Holmes, June Myung Nam
Key Assistants: Maria Wilnelmina Rosetti, Domingo C. Rivera, Jr.
Assistants: Mary-Jean Repchuk, Marty Schwartz
Breakdown: Cliff Freitas, Greg Checketts
Inbetweeners: Jong Won Park, Daisy Lee
Young Terk
Key Leads: Brian B. McKim, Doris A. Plough
Key Assistants: Judith Barnes, Marsha W.J. Park-Yum
Assistant: Helen T. Tse
Breakdown: Raul Aguirre Jr., J.C. Chen
Inbetweener: Ho Young Lee
Clayton
Key Leads: Randy Sanchez, Dan Tanaka
Key Assistants: Miriam McDonnell, Dorothea Baker Paul, Carl Philip Hall
Assistants: David Recinos, Justin Wakefield
Breakdown: Denise Meehan, Jim Snider, Ronald John Westlund
Inbetweeners: Matthew R. Haber, Christine T. Mallouf
Archimedes Q. Porter
Key Leads: Tony Anselmo, Robert Tyler
Key Assistant: Karen Rosenfield
Assistant: Miri Yoon
Breakdown: Aidan Flynn, Steven K. Thompson
Inbetweener: Tao Hun Nguyen
Kerchak
Key Leads: Tracy Mark Lee, Don Parmele
Key Assistants: Eric Pigors, Kyung S. Shin
Assistants: Brian Mainolfi, Doug Post
Breakdown: Janine Cho
Inbetweeners: Michael Ludy, Johnny K. Painter
Young & Adult Tantor
Key Leads: Terry Wozniak, Scott R. Bern
Key Assistants: Sue Adnopoz, Calvin Suggs
Assistants: Brigitte T. Franzka-Fritz, Chan Woo Jung
Breakdown: Jocelyn "Jody" Kooistra, Catherine Choi
Inbetweeners: James Anthony Marquez, Shawn S. Palmer
Sabor
Key Leads: Gontran Hoarau, Jose Antonio Cerro
Key Assistant: Hamish MacKinnon
Assistants: Gizella Maros Gregan, Ellen Lichwardt Heindel, Benoît Meurzec, George A. Goodchild, Phirum Sou, Wanda L. Brown, Marc Tosolini, John Eddings, Xavier Villez, Ruth Elliott
Breakdown: Guy Donovan
Inbetweener: Francisco Rosales
Flynt and Mungo and Ape Family
Key Leads: Susan Lantz, Ginny Parmele
Key Assistants: Jesus Cortes, Kris Heller, Susan Y. Sugita, Peggy Tonkonogy
Assistants: Cynthia Jill French, Annette Morel
Breakdown: Hugo Soriano, Barrett Glenn, Jr.
Inbetweeners: Jeff W. Hong, Kimberly Moriki Zamlich
Baboons & Miscellaneous Characters
Key Leads: Lieve Miessen, Bronwen Barry
Key Assistants: Raymond A. Harris, Michael G. McKinney
Assistants: Diana Coco, Janet Heerhan Kwon, Kent Holaday
Breakdown: Munir A. Bhatti, Carolyn F. Gliona
Inbetweener: Rudy Rosales
Captain & Clayton's Men
Key Leads: Gail Frank, Elena Kravets
Key Assistants: Michael Hazy, Michael Venturial
Assistants: Lillian Amanda Chapman, Greg Fleming
Breakdown: Jim Brummett, Danny Raul Gonzalez
Inbetweener: Chrissie Schweiger
Clean-Up Second Unit Supervisors: Vera Lanpher-Pacheco, Nancy Kniep
Allison Sgroi
🎨Digital Production🎨
Software Development
Supervisor: Tasso Lappas
Senior Development Technical Director: George Katanics
Technical Directors: Peter Palombi, Mayur Patel
Assistant Technical Directors: Bernard O. Ceguerra, Iva S. Itchevska-Brain, Christina C. Lau
Model Development
Supervisor: Gil Zimmerman
Technical Directors: Nick Collier, Ian J. Coony, Bill Konersman, Andrea Losch, Nicoletta Marcialis, Kevin Paul Sheedy
Assistant Modelers: Pamela J. Choy, Joe Whyte
Assistant Technical Director: Christopher K. Poplin
Look Development
Supervisor: Dale Drummond
Technical Directors: Sean Eckols, Clunie Holt, Mira Nikolic
Assistant Technical Directors: William Otsuka, Ruth Ramos
Render I/O - Scene Set-Up: Rosana D'Andrea, Aileen Kehe, L. Rhiannon Leffanta, Ann Ta, Faye Tipton, David W. Thompson, Elkeer Zaldumbide Pratt
🍟Visual Effects Animation🍟
Supervising Animator 3D Effects: Dan Chaika
Supervising Animators: Mark Myer, James DeValera Mansfield
Visual Effects Animators: Etienne Aubert, John Bermudes, Thierry Chaffoin, Jesse M. Cosio, Margaret Craig-Chang, Jeff Dutton, Rick Echevarria, Colbert Fennelly, James Menehune Goss, Craig L. Hoffman, Tom Hush, Michael Cadwallader Jones, Dorse A. Lanpher, Dan Lund, Brice Mallier, David Joseph Mildenberger, Cynthia Neill Knizek, Masa Oshiro, Mouloud Oussid, Kevin M.O'Neil, Kathleen Quaife-Hodge, Allen M. Stovall, David Tidgwell, Phillip D. Vigil, Marlon West
Effects Key Assistants: Sean Applegate, Mark Barrows, Mathilde Danton, Geoffrey C. Everts, Angela Anastasia Diamos, Mabel Gesner, Ko Hashiguchi, David M. Kcenich, Jon William Lopez, Mary Mullen, Maria Nemeth, Nate Pacheco, Joseph Christopher Pepe, Peter Francis Pepe Jr., Steve Starr, Amanda J. Talbot, Michael Anthony Toth, John Tucker, Thomas Walsh, Karel Zilliacus, Lisa A. Reinert,
Effects Assistants: Virginie Augustin, Esmeralda C. Acosta, Thierry Beltrami, Greg Navarro Bumatay, Ivan Kassabov, Terence R. Kester, Derrick Lee McKenzie, Graham Woods, Gregory Regeste, Robert Rios, Van Shirvanian, Dennis Spicer, Lora M. Spran
Effects Breakdown: Jay Baker, Robert Blalock, Eduardo Brieño, Delphine Buratti, Matt Maners, Alexis Venet, Von Williams, Melinda Wang, Nicole Alene Zamora
Effects Inbetweeners: Ernesto Brieño, Kristin K. Fong-Lukavsky, Eric Gosselet, Carl Canga, Ron Pence, Philip Pignotti, Jeffrey C. Plamenig, Robert Smyth, Jaclyn S. Seymour, Sean Strain, Dawn M. Wells
🍝Assistant Production Managers🍝
Story & Visual Development: David Okey
Editorial: Kara Lord
Layout: Paul Lanum
Character Animation: Tone Thyne
Sweatbox: Karenna Mazur Alderton
Clean-Up Animation: Lesley Addario Bentivegna
Visual Effects Animation : Leif Green
Backgrounds: Jennifer L. Hughes
Digital Production: Jason Hintz-Llopis
Paris Layout & Backgrounds: Michael De La Cruz, Maria R. Guerra
Paris Animation: Alexandra Skinazi, Jackie Blaisdell
Paris Clean-Up: Etienne Longa, Michelle Perslow
Paris Visual Effects: Frederika Pepping, Lizbeth Angelica Velasco
Animation Check: Cathy McGowan Leahy
Color Models: Holly E. Bratton
Production: Bill Bloom
Assistant Manager Disk Space & Retakes: Brenda McGirl
Manager Disk Space & Retakes: Shawne Zarubica
💽Florida Unit Supervisors💽
Story: Jeff Snow
Layout: Robert Walker
Clean-Up Animation: Philip S. Boyd, Ruben Procopio
Visual Effects Animation: Joseph F. Gilland, Garrett Wren
Background: Sean Sullivan, Robert E. Stanton
🎉Additional Story🎉
Ulrich C. Meyer, Phil Nibbelink, Vincet Waller, Francis Glebas, Rejean Bourdages, Brenda Chapman, Edmund Fong, Eric Koenig, Jennifer Lerew, Henry Mayo, Brain Sheesley, Conrad Vernon
☎️Additional Layout☎️
Andrea Blasich, Scott Caple, Arden Chan, Shawn Colbeck, Trish Coveney-Rees, Tom Dow, Mac George, Brendan Houghton, William Samuel Hodman, Karen Hamrock, Conor Kavanagh, Christophe Lautrette, Gary Mouri, Francisco Mora, Benoit Le Pennec, Franc Reyes, Kenneth Spirduso, Audrey Stedman, Jean Luc Serrano, Kevyn Wallace, Todd Winter, Yong-Hong Zhong
🎯Additional Animation🎯
Ruben A. Aquino, Cinzia Angelini, Jean-Luc Ballester, Dale Baer, James Baker, Travis Blaise, Tom Bancroft, Richard Bazley, Dan Boulos, Roger Chiasson, Wayne Carlisi, Michael Cedeno, Kent Culotta, Robert Espanto Domingo, Jerry Yu Ching, Sandro Cleuzo, Tom Gately, Brian Ferguson, Bruce Ferriz, Raul Garcia, Luis Grane, David Hancock, Christopher Hubbard, Steve Horrocks, Bert Klein, James Young Jackson, Fabrice Joubert, Sang Jin Kim, Brad Kuha, Sam Levine, Philippe Le Brun, Mark Alan Mitchell, Teresa Martin, Joe Oh, Jamie Oliff, Tom Owens, Ralph Palmer, Mark Pudleiner, Jane Poole, William Recinos, Jean-Francois Rey, Michael Show, Andrea Simonti, Bill Waldman, Anthony Ho Wong, Ellen Woodbury, Mark Williams, Phil Young
🥢Additional Rough Inbetweeners🥢
Gregg E. Azzopardi, Mike D'Isa, Larry R. Flores, Edmund Gabriel, Grant Hiestand, John Hurst, Cameron Hood, Clay Kaytis, Joseph Mateo, Bobby Alcid Rubio, Kevin M. Smith, Wes Sullivan
🍭Additional Backgrounds🍭
Sunny Apinchapong, Armand Baltazar, Ron DeFelice, Desmond Downes, Xin-Lin Fan, Christopher F. Greco, Miguel Gil, Brad Hicks, Tianyi Han, Xiangyuan Jie, Geraldine Kovats, Michael Kurinsky, Joty Lam, James J. Martin, Barbara Massey, Kelly McGraw, Kevin McNamara, Peter Moehrle, David Murray, John Piampiano, Leonard Robledo, Robh Ruppel, George Taylor, David Ying Guang Wang
🧃Additional Clean-Up Animation🧃
Philip J. Allora, Todd H. Ammons, Scott Anderson, Merritt F. Andrews, Carlos R. Arancibia, Stephen Nelson Austin, Dominic A'Vant, Mary Jo Ayers, Cindy Andress, Kathleen M. Bailey, Kevin A. Barber, Augusto Borges Bastos, Bill Berg, Carl A. Bell, Janelle Bell-Martin, Rachel Renee Bibb, Patricia Ann Billings-Malone, Katherine Blackmore, Saul Andrew Blinkoff, Cyndy Bohonovsky, Jason Boose, Daniel Bond, Dan Bowman, Philip S. Boyd, Russell Braun, Todd Bright, Scott A. Burroughs, Maureen Bushman, Chang Yei Cho, Inna Chon, Scott Claus, Caroline Clifford, Ron Cohee, Regina Conroy, Frank R. Cordero, Don Crum, Antoine Cunnigham, Nicola Courtney, Tammy Daniel-Biske, Dan Daly, Antony de Fato, Tom de Rosier, Kevin Deters, Marcia Kimura Dougherty, Amy Drobeck, Lee Dunkman, Kimberly Dwinell, Dindo Dinglasan, James W. Elston, Sam Ewing, Thomas Estrada, Perry Farinola, Tom Fish, Larry R. Flores, Jill Friemark, Debbie Forster, Cindy Ge, Michael Genz, Daniel A. Gracey, Mike Greenholt, Akemi Gutierrez, Edward Gutierrez, Brain Garvey, James A. Harris, Ilan Wexio Hatukah, Arturo Alejandro Hernandez, Allison Hollen Renee Holt, Ann Heeny, Eun Sang Jang, Emily Jiuliano, Phillip A. Jones, Kyle Arthur Jefferson, Brian D. Kennon, Seung Beom Kim, Yung Soo Kim, Nancy Kniep, Ken Kim, Samantha Lair, Lisa G. Lanyon, Calvin Le Duc, Jang Woo Lee, Mi Yul Lee, Steve Lenze, Ely Lester, Michael Lester, Kellie D. Lewis, Leticia Lichtwardt, Steve Lubin, Kaaren Lundeen, Sean Luo, Paola Lecler, David Mar, Whitney B. Martin, Tim Massa, Patrick McClintock, Alex McDaniel, Sarah Mercey-Boose, Jane Misek, Frank Montagna, Jr., Maurilio Morales, Richard S. Morgan, Wendy Muir, Monica Murdock, Gary J. Myers, Jenni McCosker, Yoon Sook Nam, Jan Naylor, Terry Naughton, David T. Nethery, Phil Noto, Tao Huu Nguyen, John O'Hailey, Stephanie Olivieri, Irene Parkins, James Parris, Jason Peltz, John J. Pierro, Eddie Pittman, Cheryl Polakow-Knight, Ruben Procopio, Fernando Pastor, Teresita Quezada-Geer, Peter Raymundo, Dana M. Reemes, Daniel Lawrence Riebold, Clarence "Boola" Robello, Sandra Ryan, Al Salgado, Danny R. Santos, Tony Santo, Elsa Sesto-Vidal, Jacqueline M. Shepherd, Sherrie H. Sinclair, Keith A. Sintay, Vincent Siracusano, Lon Smart, Bryan M. Sommer, Rusty Stoll, George Sukara, Molly Schaar, Trevor Tamboline, Myung Kang Teague, Richard C. Trebus Jr., Bill Thinnes, Chad Thompson, Thomas Thorspecken, Alex Topete, Kim Torpey, Marianne Tucker, Patrick Tuorto, Philippe Tilikete, Rosana Urbes, Yer (Za) Vue, Jerry Verschoor, Elizabeth S. Watasin, Darren R. Webb, Matt Whitlock, Michael W. Wiesmeier, Robert Lee Williams Jr., Virginia Wolf Browning, Woody Woodman, Rebecca Wrigley, Cory Wilson, Eunice (Eun Ok) Yu, Adam York, Ron Zeitler, Jane Zhao, Stephan Zupkas, Mary M. Dowd
🍛Additional Digital Production🍛
William T. Carpenter, Erica Cassetti, Sanguan V. Chow, Nika Dunne, Eric Gervais-Depres, Steve Goldberg, Claire Lawrence-Slater, Sean Locke, Jean-Louis Malgoire, Thomas C. Meyer, Chris Springfield, Charles Stoner, Gary Telfer, Susan Thayer, Nathan Detroit Warner, Jeff Wolverton
🍻Additional Visual Effects Animation🍻
Mark Masanori-Asai, Gordon Baker, Robert Bennett, Guner Behich, Verrell "Skip" Bowers, Paul Briggs, Esther M. Barr, John Cashman, Aliza Corson Chameides, Mike Camarillo,Michael Duhatschek, Bryce Erickson, John Fargnoli, Jazno Francoeur, Connann Fitzpatrick, Leonard F.W.Green, William J. Haas, Darlene E. Hadrika, Pin Ho, Helen Javan, Michael Kaschalk, Paul Kashuk, Jr., Dan Kessler, Rosanna Lyons, Stephen McDermott, Michael Todd Montgomery, John MacFarlane, Robert Naudon, Michael L. Oliva, Bob Lyss, Christopher R. Page, Julie Penman, Sean Simon Ramirez, Paitoon Ratanasirintrawoot, Olun Riley, Gary Schumer, Heather M. Shepherd, Rochelle Doriot Smith, Bob Simmons, John David Thornton, Jeff Topping, Tony West, Susanna Luck
Senior Manager Production Caps: Gretchen Maschmeyer Albrecht, Jill Hopper
Senior Manager Scene Planning & Camera: Joe Jiuliano, Mark Swift
Manager Florida Caps: Fran Kirsten, Jo Anne Adams
🧆Scene Planning🧆
Scene Planners: S.J. Bleick, Ronald J. Jackson, Cynthia Goode, James Keefer, David J. Link, Mark Henley, Rafaël Vicente
Scene Planning & Effects Data Entry: Jamal M. Davis, Laura J. Jaime, Sherri H. Villarete
🎨Animation Check🎨
Assistant Supervisors: Karen S. Paat, Mavis Shafer
Animation Checkers: Janette Adams, Nicolette Bonnell, Daryl Carstensen, Janette Hulett, Denise M. Mitchell, Helen O'Flynn, Kathleen O'Mara-Svetlik, Gary G. Shafer, Carol Li-Chuan Yao
🏓2-D Animation Processing🏓
Assistant Supervisors: Karen N. China, Dean Stanley
Digital Mark-Ups: Lynnette E. Cullen, David E. Bonnell
Paris Supervisors: Sylvie Bennett-Fauqué, Karl Dunne
2-D Animation Processors: David Braden, Jo Ann Breuer, Richard J. McFerren, Michael Alan McFerren, Robert Lizardo, Stacie K. Reece, David J. Rowe, Edwin S. Shortess
🥃Color Stylists🥃
Penny Coulter, Maria Dolores Gonzalez, Barbara Lynn Hamane, Debbie Jorgensborg, Heidi Lin Loring, Celine O'Sullivan, Catherine P.O'Leary, Sylvia I. Sanchez, Marie St. Clair, Judith L. Tolley
🍫Painting🍫
Color Model Mark-Up: Bill Andres, Sherrie Cuzzort, Dawn Knight, Beth Ann McCoy-Gee, Grace H. Shirado, Christine Ng Wong, David J. Zywicki
Registration: Karan Lee-Storr, Leyla C. Amaro-Pelaez, Tanya Moreau-Smith
Assistant Supervisors, Painting: Irma Velez, Russell Blandino, Phyllis Estelle Fields, Rhonda L. Hicks
Paint Mark-Up: Roberta Lee Borchardt, Patricia L. Gold, Staci Gleed, Gale A. Raleigh, Bonnie A. Ramsey, Barbara Newby, Myrian Ferron Tello
Painters: Carmen Sanderson, Joyce Alexander, Kirk Axtell II, Phyllis Bird, Kathy Baur, Joey Calderon, Ofra Afuta Calderon, Janice M. Caston, Casey Clayton, Sybil Elaine Cuzzort, Florida D'Ambrosio, Robert Edward Dettloff, Nika Dunne, Michael Foley, Nance Finley, Paulino Garcia, Debbie Green, Stevie Hirsch, David Karp, Angelika R. Katz, Steve Kindernay, Kukhee Lee, Deborah Jane Mooneyham, Karen Lynne Nugent, David M. Nimitz, Kenneth O'Malley, Bruce Gordon Phillipson, Rosalinde Praamsma, Heidi Woodward Shellhorn, Eyde Shepperd, Don Shump, Fumiko Roche Sommer, S. Ann Sullivan, Susan Lee So, Roxanne M. Taylor, Tami Terusa, Christina Elaine Toth, Britt-Marie Van Der Nagel, Dirk Von Besser, Janet M. Zoll
🍦Final Check🍦
Assistant Supervisors: Teri N. McDonald, Chuck Gefre
Final Checkers: Lea Dahlen, Misoon Kim, Catherine Mirkovich-Peterson, Sally-Anne King, Randy O. Roberg
🍙Compositing🍙
Compositors: Timothy B. Gales, Michelle Sammartino, Jason Leonard Robert Buske, Earl Scott Coffman, Dolores Pope
🥮Digital Film Printing & Opticals🥮
Assistant Supervisor: Tony Poriazis
Camera/Film Recorder Operators: John D. Aardal, John Derderian, Jennie Kepenek Mouzis
Assistant Manager: Jeanne E. Leone-Sterwerf
Quality Control: Chuck Warren
Camera Operations Coordinator: Stephanie C. Herrman
Digital EFX & Reuse Librarian: Vicki L. Casper
🦪Additional Animation Checkers🦪
Florida Supervisors: Laurie Sacks,
Daniel Cohen, Jacqueline Hooks-Winterlich, Willis Middleton, Albert Francis Moore, Victoria Winner Novak, Pierre Sucaud
🍰Additional 2-D Animation Processors🍰
Florida Supervisor: Jan Barley Gutowski,
Sarah J. Cole, Gareth P. Fishbaugh, Evariste Ferreira, Corey D. Fredrickson, Todd LaPlante, Barbara J. Poirier
🥜Editorial🥜
Associate Editor: Tim Mertens
Animation Editor: James Melton
First Assistant Editor: Gina Gallo Paris
Assistant Editors: Stephen L. Meek, Teressa Longo
Avid Assistant Editor: Mark Alan Deimel
Assistant Animation Editor: Hermann H. Schmidt
Additional Editorial Support: Jeff Jones, Ivan Bilancio
Casting by: Ruth Lambert, Mary Hidalgo
🏹Cast🏹
(in Alphabetical Order)

Clayton: Brian Blessed
Kala: Glenn Close
Jane Porter: Minnie Driver
Tarzan: Tony Goldwyn
Archimedes Q. Porter: Nigel Hawthorne
Kerchak: Lance Henriksen
Tantor: Wayne Knight
Young Tarzan: Alex D. Linz
Terk: Rosie O'Donnell
Additional Voices: Beth Anderson, Jack Angel, Joseph Ashton, Bob Bergen, Billy Warren Bodine, Hillary Brooks, Rodger Bumpass, Lily Collins, Kat Cressida, Jim Cummings as Winnie the Pooh, Aria Noelle Curzon, Jennifer Darling, Taylor Dempsey, Debi Derryberry, Patti Deutsch, Paul Eiding, Blake Ewing, Francesca Falcone, Michael Geiger, Scott Martin Gershin, Sam Gifaldi, Amy Gleason, Jackie Gonneau as Tammy the Babysitter, Debbie Hall, Jon Robert Hall, Sandie Hall, Tina Halvorson, Linda Harmon, Karen Harper, Micah Hauptman, Jennifer L. Hughes, Grady Hutt, Luana Jackman, Adam Karpel, Theo Lebow, Brandon Lucas, Ricky Lucchese, James W. Lively, Sherry Lynn, Melissa Mackey, Danny Mann, Ilana Marks, Jason Marsden, Mickie McGowan, Donna Medine, Nils Montan, Bobbi Page, Brandon Pollard, Phil Proctor, Scott Record, Michael Reagan, Ian Redford, Jessica Rotter, Chris Sanders, Stephanie Sawyer, Laurie Schillinger, Brianne Siddall, Frank Simms, Susan Stevens Logan, Shane Sweet, Tiffany Takara, Dominic Thiroux, Jamie Torcellini, Erik Von Detten, Joe Whyte, Danielle Wiener and PAUL WINCHELL as Tigger
London Casting Consultant: Leonie Cosman
🪂Music🪂
Consultant: Ted Hughes (1930-1998)
Score Produced by: Mark Mancina
Orchestrations by: Dave Metzger
Score Conducted by: Don Harper
Songs Recorded and Mixed by: Frank Wolf
Score Recorded and Mixed by: Steve Kempster
Score Co-Produced by: Christopher Ward
Music Editor: Earl Ghaffari
Assistant Music Editors: Robbie Boyd, Daniel Gaber
Director, Music Production: Andrew Page
Music Production Manager: Tom MacDougall
Music Production Coordinator: Deniece Larocca-Hall
Music Contractors: Sandy De Crescent, Reggie Wilson
Vocal Contractors: Bobbi Page, Fronzi Thornton
Additional Synth Programming: Marc Mann
Supervising Music Copyist: Booker White - Walt Disney Music Library
Music Preparation by: Jo Ann Kane Music Service
Character Sculptures: Kent Melton, Christophe Charbonnel, Tony Cipriano
🌉Songs🌉
"Two Worlds"

Produced and Arranged by Phil Collins and Mark Mancina
Performed by Phil Collins
Orchestra Conducted by Mark Mancina

"You'll Be in My Heart"

Produced by Mark Mancina and Phil Collins
Arranged by Mark Mancina
Vocals by Phil Collins and Glenn Close
Orchestra Conducted by Mark Mancina

"Son of Man"

Produced and Arranged by Phil Collins
Performed by Phil Collins

"Trashin' the Camp"

Produced and Arranged by Phil Collins
Noises Performed by Phil Collins
Vocals by Rosie O'Donnell
Additional Music Arrangements by Paul Bogaev

"Strangers Like Me"

Produced by Phil Collins
Arranged by Phil Collins and Mark Mancina
Performed by Phil Collins
Orchestra Conducted by Mark Mancina
🕍Production🕍
Administration Manager: Vicki Case
Production Accountant: Jeff Ruggels
Paris Production Accountant: Damien Harnist
Assistant Production Accountants: Frank William Knittel Jr., Debbie Hagman
Manager Digital Production: Kirk Bodyfelt
Director of Production: Dorothy McKim
Director of Production Accounting: Robert Bacon
🏞Production Coordinators🏞
Video References & Recording: Kathy Cavaiola-Hill
Communications Coordinator: Juliet Nees
Caps: Kirsten A. Bulmer
🪱Production Assistants🪱
Bill Barry, Olivier Bizet, Rudy Cardenas-Rios, Karine Cohen-Solal, Joe Crowley, Andrew Egiziano, Bérangère Frésard, Silvia Gallardo, Wendell L. Harvey, Christelle Kam, Adam Karpel, Jennifer Jo, Klocki Sean, Krankel Gabriel, Jose Lara, Renato Lattanzi, Mitchell Lindell, Jonathan MacKintosh, Helen Fernandez Martinez, Sean McAndrew, Allyson Mitchell, Kathleen Mix, Ninka Katarina Mortensen, Tina Pedigo Brooks, Robert Stemwell, Julie Vieillemaringe, Judy Wolf
Production Secretary: Joy Aaron
Assistant to Producer: Elizabeth Ramos
Administrative Assistants: Anthony Alexander Destefanis, Eric C. Kay, Nora Quinn Souffir
🦑Additional Production Support🦑
Bruce Anderson, Ron Betta, Tara Joan Brown, Alex Chatfield, Stephen R. Craig, François Desnus, Nanette K. Drumtra, Joshua P. Edwards, Patricia Faye Feldstein, Patrick Golier, Tom Grealy, Greg Hill, Ingrid M. Sander, Jackie L. Shadrake, Angela M. Smith, Ria Mashburn Smith, Stephanie Green Spahn, Jef B. Vowell, Sabrina Waterman, Lisa Watts, Doeri Welch Greiner
🍎Post Production🍎
Post Production Supervisor: Patsy Bougé
Post Production Coordinators: Eleanor Lesh, Robert H. Bagley
Post Production Administrator: Heather Jane MacDonald-Smith
Post Production Engineer: Michael Kenzi Tomizawa
Re-Recorded at: Todd-AO Studios
Re-Recording Mixers: Chris Jenkins, Mark Smith, Ron Bartlett
Original Dialogue Mixer: Doc Kane
Post Production Sound Services by: Soundelux
Supervising Sound Editor: Per Hallberg
First Assistant Sound Editor: Karen Baker
Vocal & Creature Sound Design: Scott Martin Gershin
ADR Supervisor: Curt Schulkey
FX Editors: Christopher Assells, Peter Michael Sullivan, Geoff Rubay
Foley Supervisor: Craig S. Jaeger
Foley Editor: Lou Kleinman
Sound Assistants: Philip D. Morrill, Tony Negrete
Foley Artists: James Moriana, Jeffrey Wilhoit
Foley Mixer: Nerses Gezalyan
Foley Recordist: Greg Zimmerman
Foley by: Soundelux Vine Street Studios
Additional Audio: Mark Ormandy
Additional Dialogue Recorded by: Vince Caro, Brian Riordan
Black and White Processing: John White
Color Timers: Terry Claborn, Chris DeLaGuardia
Negative Cutting by: Buena Vista Negative Cutting
Title Design by: Matt Seckman, Robert Dawson, Grady Cofer
Titles by: Custom Film Effects
Opticals by: Buena Vista Imaging
Special Edition Digital Remastering Provided By: Skywalker Sound A Lucas Digital Ltd. Company
De-Hiss Processing By: Cedar Dh-1, Hhb Communications Inc.
Film Restoration Consultant: Leon Briggs
Optical Restoration: Pacific Title & Art Studio
Film Restoration By: YCM Laboratories
Projection: Don Henry, Deem Rahall
Telecine Operator: Robert J. Hansen
Prints by: Technicolor®
Produced and Distributed on: Eastman Film
Soundtrack Negative by: Mike Vigil
🧑‍🌾Industrial Light And Magic👩‍🌾
Visual Effects Producers: Tom Kennedy, Ned Gorman
Visual Effects Supervisors: Alex Seiden, John Knoll, Dave Carson, Stephen Williams, Dennis Muren, Joseph Letteri, Bruce Nicholson
Second Unit Director & Cameraman: Joe Murray
Visual Effects Art Directors: Ty Ruben Ellingson, Mark Moore
Computer Graphics Supervisor: John Berton
Visual Effects Editor: David Tanaka
Digital Color Timing Supervisor: Bruce Vecchitto
Sabre Group Supervisor: Daniel McNamara
Digital Scanning Supervisor: Joshua Pines
Visual Effects Coordinators: Margaret Lynch, Lisa Todd
Computer Graphics Artists: Karen Ansel, Mark Austin, Amelia Chenoweth, Terry Chostner, David Deuber, Natasha Devaud, Selwyn Eddy, Howard Gersh, Paul Giacoppo, Joanne Hafner, James Hagedorn, Carol Hayden, Matt Hendershot, Guy Hudson, Stewart Lew, Jodie Maier, Greg Maloney, Stuart Maschwitz, Julie Neary, Kerry Nordquist, Scott Pasko, Damian Steel, Danny Taylor, Paul Theren, James Tooley, Chris Townsend, Timothy Waddy
Digital Matte Artists: Paul Huston, William Mather, Yusei Uesugi
Sabre Artists: Rita Zimmerman, Chad Taylor, Grant Guenin
Software Development: Christian Rouet, Rod Bogart, Brian Knep
Production Engineering: Fred Meyers, Gary Meyer, Marty Miramontez
Digital Plate Restoration Artists: Alan Bailey, Scott Bonnenfant, Corey Rosen
Negative Supervisor: Doug Jones
Assistant Visual Effects Editors: Angela Leaper, Forest Key, Scott Balcerek
Digital Production Assistants: Kela Hicks, Ronn Brown
Animatics Artist: David Dozoretz
CG Resource Managers: Nancy Jill Luckoff, Lam Van To
CG Production Manager: Suzie Vissitzky Tooley
🤳Video Reference🤳
Video Reference Cast: Miriam Johnson, Bart McCarthy, Rocco Vienhage
Video Reference Crew:

Cameramen: Al Vasquez, Tom Smith, Chris Ullrich
Props & Sets: Akeime Mitterlehner
Costume Designer: Fionn Zarubica
🍸Technology Crew🍸
Manager, Systems Support: Michael R. Fodor
Manager, 2-D Software: Kevin J. Hussey
Manager, Media Group: Thomas Moore, Jr.
Manager, Systems Development: James J. Sepe
Technology Leads: Graham S. Allan, Richard M. Barnes, Janet E. Berlin, Mark Roy Carlson, Hank Driskill, Norbert Faerstain, Mark W. Gilicinski, John D. Hoffman, Troy Norin, Kyle Odermatt, Nasser B. Salomon, Mark M. Tokunaga, Mary Jane "M.J." Turner, David Troude, Jon Y. Wada, Doug White
Technology Support: Raul Anaya, Dale R. Beck, Glenn C. Bell, Jawad Benchikhi, Brad Brooks, Michael C. Bolds, Letha L. Burchard, Brent Burley, Scott Burris, Judith A. Cardinale, Nhi Hua Casey, Lawrence Chai, Loren Chun, Peter Lee Chun, Michael Clay, Ray C. Coleman, Jefferson Crutchfield, Nolan R. Davis, Elena Driskill, Larry Grant Edminister, Marc Fleury, Sahara Elizabeth Ford-Wernick, Kevin G.J. Freels, Massimiliano Gasparri, Sean Joel Goldman, Maria Gomez de Lizardo, Don Gworek, Steven J. Hall, Alex Hansen, Dwayne Harris, Dana Haukoos, Gregory S. Heflin, Shannon R. Howard, Le Hua, Marc Jordan, Dave Kagels, Kevin E. Keech, Kimberly W. Keech, Daniel C. Kim, Michael R. King, Michael D. Kliewer, Hans Ku, Mike Larkin, Barbara LeBruno, Li-Ming "Lawrence" Lee, James MacBurney, Jean Mandonnet, Michael A. McClure, Kevin A. McGuire, Christophe Meslin, Thaddeus P. Miller, G. Kevin Morgan, Robert A. Mortensen, Jack Muleady, Jeff Nash, Tom Naylor II, Keith Otis, David Oguri, Mabel Lim Okamura, Dominique Patard, James Pirzyk, Ron L. Purdy, Carlos Quinonez, Lisette Ranga, Patrick Robin, Jeff Rochlin, Kaizhen Ruan, James A. Samuel Sandweiss, Michael Saitta, Todd Scopio, Buddy W. Smallwood, Deborah L. Snead, Sandy Sunseri, Joe Suzow, Rasmus Tamstorf, Roy Turner, Tamara Valdes, Derek Elliott Wilson, Tomas A. Wong, Fran R. Zandonella, Michael Zarembski
🏹Special Edition Crew🏹
Producer: Rick McCallum
Editor: T.M. Christopher
Sound Designer: Ben Burtt
Re-Recording Mixer: Gary Summers
Assistant Editor: Samuel Hinckley
Sound Editor: Teresa Eckton
Assistant Sound Editor: Robert Marty
Re-Recordist: Ronald G. Roumas
Digital Mix Technician: Gary A. Rizzo
Archivist: Tim Fox
Optical Supervisor: Phillip Feiner, Chris Bushman
Film Restoration Supervisor: Pete Comandini
Color Timer: Robert J. Raring
Negative Continuity: Ray Sabo
Negative Cutter: Bob Hart
Post Production Executive: Ted Gagliano
Executive in Charge of Production: Edward Hansen
Executive in Charge of Production for Walt Disney Studios: Jeffrey Katzenberg
Executive in Charge of Casting for Walt Disney Pictures: Christian Kaplan
Executive in Charge of Production for Sony Wonder: Becky Mancuso-Winding
Computer Systems Graphics: Image West, Ltd. and The Lucasfilm Computer Graphics Project
Animation Produced by: Walt Disney Feature Animation
In Memory of
Ted Hughes (August 17, 1930 - October 28, 1998)
(8/17/30 - 10/28/98)
Animal Anatomy Consultants: Dr. Elizabeth Rega and Dr. Stuart Sumida
Story Consultants: Juliet Aires and Keith Giglio
With Speical Thanks to the support staff at Walt Disney Feature Animation whose tireless dedication to the art of animation has made this film possible.
No. 36685 Motion Picture Association of America
This Picture Made Under the Jurisdiction of I.A.T.S.E.-IA, Affiliated with A.F.L.-C.I.O.-C.L.C.
Dolby Digital® In Selected Theatres
SDDS Sony Dynamic Digital Sound™ In Selected Theatres
Digital DTS Sound™ In Selected Theatres
Trademark Tarzan® owend by Edgar Rice Burroughs, Inc. and used by permission Phil Collins appears courtesy of Atlantic Records
Tarzan Copyright © MCMXCIX Edgar Rice Burroughs, Inc. and Disney Enterprises, Inc. All Rights Reserved
This motion picture was created by Walt Disney Pictures and Television for purposes of copyright law In The United Kingdom.
The characters and incidents portrayed and the names used herein are fictitious, and any similarity to the name, character or history of any person is entirely coincidental and unintentional.
This motion picture photoplay is protected pursuant to the provisions of the laws of the United States of America and other countries. Any unauthorized duplication and/or distribution of this photoplay may result in civil liability and criminal prosecution.
Original Soundtrack Available on Walt Disney Records
CD-Rom Available From Disney Interactive
In Loving Memory of Dave Felling
For Susan Bird
Distributed by Buena Vista Pictures Distribution
If you experienced any conditions that detracted from the theatrical presentation of the film, please call [THX|1-800-PHONE THX] or visit www.thx.com
Quality assurance services were provided by the THX Theater Alignment Program.
Lucasfilm THX
Theater Alignment Program
Closing Logos