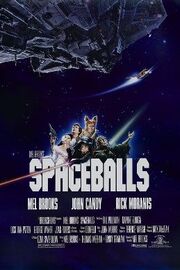 Walt Disney Pictures
Pixar
Troublemaker Studios
Aardman Animation
Nickelodeon Movies
Blue Sky Studios
Cartoon Network
The Bloo Films
Walt Disney Pictures Presents
In Association With: Pixar Productions/Troublemaker Studios/Aardman Animation
A Blue Sky Studios/Nickelodeon Movies/Amblin Entertainment/The Bloo Films Production
In Association With: Hanna Barbera Productions/Cartoon Network/Skellington Productions
A Film By Henry Selick and Mel Brooks
"Spaceballs"
Directed by: Henry Selick and Mel Brooks
Produced by: Bob Clampett and Don Bluth
Executive Producers: William Hanna, Joseph Barbera, Denise DiNovi, Gary Goldman
Based on the Story by: Bob Clampett and Don Bluth
Original Story by: Don Bluth, Henry Selick, Pete Docter, Joe Ranft, John Lasseter, Andrew Stanton, Mel Brooks, Julie Hickson
Screenplay by: Joss Whedon, Andrew Stanton, Joel Cohen, Alec Sokolow, Lenny Ripps and Coraline Thompson
Co-Producer: Kathleen Gavin
Songs by: Alan Menken & Henry Mancini and Danny Elfman & Randy Newman
Original Score by: John Morris, Alan Menken and Danny Elfman
Supervising Technical Director: William Reeves
Director of Photography: Pete Kozachik
Story: Joe Ranft
Animation: Eric Leighton
Layout: Kathleen Gavin
Modeling: Mark Adams
Shadering: Thomas Porter
Lighting: Oren Jacob
Visual Effects: Les Major
Rendering: Andrew Cho
Produced in Association with Silver Screen Partners III
Executive Music Producer: Chris Montan
Art Directors: Deane Taylor, Brian McEntee
Film Editors: Stan Webb, Lee Unkrich
Visual Consultant: Rick Heinrich
Production Manager: Philip Lofano
Sound Design: Gary Rydstrom
Production Supervisor: Karken Robert Jackson
Story: Pete Young, Vance Gerry, Steve Hulett, Ron Clements, John Musker, Bruce Morris, Burny Mattinson, Matthew O'Callaghan, Dave Michener, Melvin Shaw, Art Stevens, Joe Hale, Brian McEntee, Joe Ranft
Character Animators: Trey Thomas, Randy Cartwright, Timothy Hittle Rebecca Rees, Michael Belzer, Joe Haidar, Anthony Scott, Ellen Woodbury, Owen Klatte, Jorgen Klubien, Angie Glocka, Geefwee Boedoe, Justin Kohn, Barry Temple, Eric Leighton, David P. Stephan, Paul Berry, Chris Wahl, Joel Fletcher, Larry White, Kim Blanchette, Doug Krohn, Loyd Price, Phil Young, Richard C. Zimmerman, Tom Roth, Stephen A. Buckley, Leon Joosen
CGI Animators and Assistants: Tina Price, Randy Cartwright, Andrew Schmidt, Rebecca Rees, Scott F. Johnston, Ellen Woodbury, Mary Jane Turner, Chris Wahl, Linda Bel, Larry White, Thomas Cardone, Phil Young, Gregory Griffith, Leon Joosen
CGI Layout and Camera: Michael C. Bolds, Randy Pradeep Hiremath, Carlos Quinonez, Grace H. Shirado, Michael Sullivan
Associate Producers: Philip Lofaro, Jill Jacobs, Diane Minter
Camera Operators: Jo Carson, Pat Sweeney, Jim Aupperle, Ray Gilberti, Richard E. Lehmann, Eric Swenson, Dave Hanks, Selwyn Eddy III
Assistants: Matthew White, Chris Peterson, Brain Van't Hul, Cameron Noble, Michael Bienstork, James Matlosz, Sara Mast, Carl Miller, Mark Kohr
Armature Supervisor: Tom St. Amand
Mold Maker Supervisor: John A. Reed III
Character Fabrication Supervisor: Bonita De Carol
Set Construction Supervisor: Lee Bo Henry
Model Shop Supervisor: Mitch Romanauski
Mel Brooks as President Skroob / Yogurt
John Candy as Barf
Rick Moranis as Dark Helmet
Bill Pullman as Lone Starr
Daphne Zuniga as Princess Vespa
Dick Van Patten as King Roland
George Wyner as Colonel Sandurz
Michael Winslow as Radar Technician
Joan Rivers as the voice of Dot Matrix

Lorene Yarnell as Dot Matrix

Ronny Graham as Minister
Jim J. Bullock as Prince Valium
Leslie Bevis as Commanderette Zircon
Jim Jackman as Major Asshole
Sandy Helberg as Dr. Schlotkin
Rudy De Luca as Vinnie
Dom DeLuise as the voice of Pizza the Hutt
Christopher Plummer as Narrator
Storyboard Artists: Miguel Domingo Cachuela, Jorgen Klubien, Bob Pauley, Steve Moore
Staff Assistants: Caroline Hamann, Oliver Smyth
Assistant Art Directors: Kendal Cornkhite, Kelly Adam Asbury, Bill Boes
Artistic Coordinator: Allison Abbate
Production Coordinator: Jill Ruzicka
Sculptors: Norm DeCarlo, Shelley Daniels, Greg Dykstra, Randal M. Dutra
Armature Engineers: Blair Clark, Merrick Cheney, Chris Rand, Eben Stromquist, Bart Trickel
Additional Armatures: Lionel Ivan Orozco
Mold Makers: Victoria B. Lewis, Win Van Thillo, Erik Jensen, Rob Ronning, Michael Jobe, Jon Berg
Mold Maker Assistants: Mike Grivett, Tony Preciado
Production Assistants: Daniel Campbell
Character Fabrications: Lauren Vogt, Elise Robertson, Elizabeth Jennings, Jeff Brewer, Valerie Sofranko-Banks, Grece Murphy, Facundo Rabaudi, Michael Wick, Margot Hale, Barbara Kossy, David Chong
Additional Character Design: David Cutler, Barry Jackson, Jorgen Klubein
Set Designer & Dressing Supervisor: Gregg Olsson
Background Design: B.J. Fredrickson
Set Foreman: Tom Proost
Shop Dog: Marble
Set Builders: Todd Lookinland, Fon Davis, Phil Brotherton, Ben Nichols, Philip Cusick, Alessandro Palladini
Set Dressers: Gretchen Scharfenberg, Joel Friesch
Lead Scenic Artist: B.J. Fredrickson
Scenic Artists: Linda Overbey, Jennifer Clinard, Peggy Hrastar, Loren Hillman
Model Makers: Paula Lucchesi, Marc Ribaud, Joel Friesch, Bill Boes, Jeff Brewer, Nick Bogle
Assistant Model Makers: Jerome Ranft, Rebecca House, Pamela Kibbee, Aaron Kohr
Production Assistant: Susan Alegria
Additional Animation: Harry Walton, Paul W. Jessel, Michael W. Johnson, Ken Willard, Daniel Mason
Animation Rig Engineer: George Wong
Assistant Animation Rigger: Michael W. Johnson
Apprentice Animator: Lana Bernberg
Production Accountant: Kevin Reher
Production Coordinator: George Young
Assistant Artistic Coordinator: Shane Francis
Assistant Production Coordinator: Kat Miller
Assistant To Producer/Director: Gisela Hermeling
Assistant Accountant: Jenny Spamer
Production Assistants: Arianne Sutner, Jon Angle, Beth Lee Schneider, Denise Rottina
Production Assistant: Susan Alegria
Stage Coordinator: Alia Almeida Agha
Stage Manager: Robert Anderson
Production Assistants: Kirk Scott, David Janssen
Production Runners: David Teller, Ila Abramson, David Burke
Facilities Production Assistant: Thomas Buchanan
Consulting Editor: Chris Lebenzon
Associate Editor: Edie Ichioka
Apprentice Editors: Andrea Biklian, Patti Tauscher, Jenny Oznowicz
Additional Editor: Micheal Kelly
Track Editor: Daniel Mason
Effects Animators: Jack Boyd, Mark Dindal, Kelvin Yasuda, Bill Berg
Additional Animation: Brian Clift, David Pacheco, David Stephan, Ellen Woodbury
Cel Painters: Daryl Carstensen, Michelle Urbano
Computer System Manager: David H. Ching
Hardware Engineer: Neftali "El Magnifico" Alvarez
Softwave Engineers: Bill Carson, Ken Huey
Logistics Programmer: Heidi Stettner
Macintosh Systems Engineer: Michael E. Murdock
Hardware Technician: Edgar Quinoñes
System Operators: Onny P. Carr, Alec Wong
Media Systems Engineer: Alex Stahi
Modeling & Animation System Development: William Reeves, Eben Fiske Ostby, John Lasseter, Sam Leffler, Darwyn Peachy, Ronen Barzel, Thomas Hahn, Chris King, Drew Rogge, Brian M. Rosen, Rick Sayre, Michael Shantzis, Eliot Smyrl, Heidi Stettner
Renderman Softwave Development: Anthony A. Apodaca, Loren C. Carpenter, Ed Catmull, Rob Cook, Pat Hanrahan, Steve Johnson, Jim Lawson, Sam Leffier, M.W. Mantle, Dan McCoy, Darwyn Peachy, Thomas Porter, William Reeves, David Salesin, Don Schreiter, Mark Vandewattering
Digital Film Camera and Massage Therapist: Narottama Alden
Casting by: Mary Gail Artz and Barbera Cohen
Digital Effects Provided by: Walt Disney Feature Animation
Digital Effects Supervisor: Ariel Velasco Shaw
Ink and Paint Manager: Gretchen Albrecht
Camera Manager: Joe Jiuliano
Snow Animation: Dave Bossert
FX Color Timing and Paint: Thomas Cardone
Ink and Paint and Final Check Supervisor: Hortensia Casagran
Scene Planning Supervisor: Ann Tucker
Caps & FX Softwear Lead: Paul Yanover
Caps Personnel: Christine Beck, Frances P. Behnam, Carol Choy, Shannon Fallis-Kane, Chris Gee, Kent Gordon, Barbara Hamane, Bruce Hatakeyama, Don Henry, Chyuan Huang, Ron Jackson, Lisa Keene, Todd King, Ed Leonard, Tony Meagher, Rebecca Pahr, Jackie Roberts, Robyn Roberts, David Rowe, James Russell, Debbie Siegel, Michael Sullivan, Chuck Warren
Post Production Supervisor: Sara Duran
Visual Effects Supervisor: Pete Kozachik
Additional Optical Effects: Harry Walton/Image FX Michael Hinton/Interformat
Vocal and Song Arrangements: Steve Bartek
Song Orchestraions: Steve Bartek
Score Orchestraions: Mark McKenzie
Song Conductor: Chris Boarman
Score Conductor: J.A.C. Redford
Music Editor: Bob Badami
Music Editing Assistant: Letitia Rogers
Music Recorded by: Shawn Murphy, Bobby Fernandez
Song Vocals Recorded by: Bill Jackson
Song & Music Mixer: Shawn Murphy
Orchestra Contractor: Patti Zimmitti
Supervising Copyist: Joel Franklin
Sound Editing: Weddington Productions
Supervising Sound Editor: Richard L. Anderson, M.P.S.E.
Special Sound Effects: John Pospisil
Dialogue Editors: Mary Andrews, Joe Dorn
Sound Effects Editors: Michael Chock, James Christopher, M.P.S.E.
Assistant Sound Editor: Ralph Stuart
Foley: Joan Rowe, Hilda Hodges
Foley Mixer: Ezra Dweck
Recorded at: Warner Hollywood Studios
Recording Mixers: Terry Porter, C.A.S., Shawn Murphy, Greg P. Russell, C.A.S.
Original Dialogue Recording: Samuel Lehmer
Dubbing Recordists: Tim Webb, Tony Araki
ADR Mixer: Thomas J. O'Connell
ADR Recordist: Rick Canelli
ADR Voice Casting: Barbera Harris
Color Timer: Dale E. Grahn
Titles: Buena Vista Optical
Post Production Administrator: Jeannine Berger
Post Production Assistant: Tracy Barber
Negative Cutter: Theresa Repola Mohammed
Additional Voices: Mia Brown, Dan Castellaneta, L. Peter Callender, Ann Fraser, Jim Cummings, Jennifer Levey, Jesse McClurg, Val Bettin, John Morris, Robert Olague, Bill Fagerbakke, Bobbi Page, Elena Pranskin, Corey Burton, Trampas Warman, Judy Durand, Rodger Bompass, Doris Hass, Daamen Krall, Tim Curry, Christina MacGregor, David McCharen, John Ratzenberger, Gary Raff, David Randolph, Frank Welker, Gary Schwartz
San Francisco Casting: Hayes and Van Horn Casting David Nelson
Motion Reference: Tandy Beal
Electric Consultant/Contractor: Mark Musumeci
Massage Therapist: Aisha Candrian
Photographer: Richard Downing
Sew It Fits: Alice Payton
Interns: Derick P. Arippol, David Barker, Andrew Birch, Jerome Cook, Andrew Davidson, Dina Hardy, Troy Harris, Ethan Marak, Syndi Pilar, Ann M. Rockwell, Jefferson Thomas, Cathy Whitney
"Spaceballs"

Written by Jeff Pescetto, Clyde Lieberman and Mel Brooks
Performed by The Spinners
Produced by Jellybean

"My Heart Has a Mind of Its Own"

Written by Gloria Sklerov and Lenny Macaluso
Performed by Kim Carnes and Jeffrey Osborne
Produced by George Duke and Jeffrey Osborne

"Heartstrings"

Performed by Berlin
Produced by Bob Ezrin
Courtesy of Geffen Records and PolyGram International Music BV
By Arrangement with by Warner Special Products

"Good Enough"

Performed by Van Halen
Produced by Van Halen, Mick Jones and Donn Landee
Courtesy of Warner Bros. Records Inc.
By Arrangement with by Warner Special Products

"Raise Your Hands"

Written by Jon Bon Jovi and Richie Sambora
Performed by Bon Jovi
Produced by Bruce Fairbairn
Courtesy of PolyGram Records

"Hot Together"

Performed by The Pointer Sisters
Produced by Richard Perry
Courtesy of RCA Records

"Wanna Be Loved by You"

Performed by Ladyfire
Produced by Michael Lloyd
Computer Systems for for Final Rendering SUN MICROSYSTEMS, INC.
Special Thanks: Burny Mattinson, James Orr, Jim Cruickshank, Pete Young
Interactive Computer Workstations: Silicon Graphics, Inc.
3-D Modeling Software: Alias Research, Inc.
Video Playback Hardware: Fast Forward Video, Inc.
2-D Paint Software: Interactive Effects, Inc.
Film Recording Equipment: Management Graphics, Inc.
Rendered by: Renderman®
Processing by: Monaco labs
Filmed in: Panavision
Color by: Motion Film Lab
Prints by: Technicolor®
Produced and Distributed on: Eastman Film
Dolby Stereo In Selected Theatres
No. 29385 Motion Picture Association of America
This picture made under the jurisdiction of I.A.T.S.E.-IA, affiliated with A.F.L.-C.L.O.
COPYRIGHT © MCMXCIII The Walt Disney Company All Rights Reserved
This motion picture was created by Skellington Productions, Inc. for purposes of copyright law in the United Kingdom.
Soundtrack Available on Cassete and Compact Disc from Atlantic Records and Walt Disney Records on LP, audio CD and Compact Cassette, featuring many of the songs heard in the film, as well as three score cues by frequent Brooks collaborator John Morris
Video Game and CD-ROM Available from Disney Interactive
Clampett toured college campuses and animation festivals as a lecturer on the history of animation. His cartoons have seen renewed praise in decades since for their surrealistic qualities, energetic and outrageous animation, and irreverent humor - "Bob Clampett" at 1913-1987
Distributed by Buena Vista Pictures Distribution Co, Inc.
Aardman Animation
Troublemaker Studios
Cartoon Network Studios
Cartoon Network
Blue Sky Studios
Hanna Barbera Productions
Skellington Productions
Amblin Entertianment
Walt Disney Pictures
Pixar Productions
Community content is available under
CC-BY-SA
unless otherwise noted.