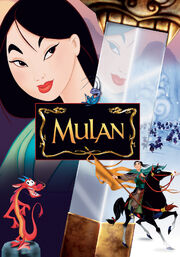 Special Edition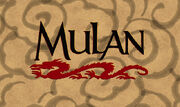 Opening Logo and Title Card
[
edit
|
edit source
]
PIXAR
ANIMATION STUDIOS
TROUBLEMAKER
STUDIOS
WALT DISNEY PICTURES
WALT DISNEY PICTURES & PIXAR ANIMATION STUDIOS
AND
TROUBLEMAKER STUDIOS
PRESENTS
A
BLUE SKY STUDIOS
PRODUCTION
MULAN
Directed by: Barry Cook and Tony Bancroft
Produced by: Pam Coats Bill Damaschke Janet Healy Allison Lynn Segan
Executive Produced by: Robert Rodriguez John Lasseter
Co-Produced by: John McKimson and Dave Felling
Based on a Story by: Robert D. San Souci
Screenplay by: Rita Hsiao & Christopher Sanders, Philip LaZebnik & Raymond Singer, Eugenia Bostwick-Singer
Original Songs

Music by: Matthew Wilder
Lyrics by: David Zippel

Original Score Composed and Conducted by: Jerry Goldsmith
Associate Producers: Kendra Haaland, Robert S. Garber
Production Design: Hans Bacher
Art Direction: Ric Sluiter
Editor: Michael Kelly
Story: Christopher Sanders
Character Design: Chen-Yi Chang
Layout: Robert Walker
Background: Robert Stanton
Clean-Up: Ruben Procopio
Visual Effects: David Tidgwell
Computer Animation: Eric Guaglione
Artistic Coordinator: Jeff Dutton
Production Manager: Lisa M. Smith
Executive Music Producer: Chris Montan
"True to Your Heart"

Music by: Matthew Wilder
Lyrics by: David Zippel
Performed by: 98° and Stevie Wonder
John Sanford, Chris Williams, Tim Hodge, Saul Bass, Julius Aguimatang, Burny Mattinson, Lorna Cook, Barry Johnson, Thom Enriquez, Ken Turner, Ed Gombert, Joe Grant, Floyd Norman
Co-Head Story: Dean DeBlois
Character Design-Visual Development
[
edit
|
edit source
]
Sai Ping Lok, Robh Ruppel, Paul Felix, Alex Nino, Marcelo Vignali, Richard Chavez, John Puglisi, Jean Gillmore, Caroline K. Hu, Sue C. Nichols, Peter de Sève, Dan Haskett, David Molina, Harald Siepermann
Key Visual Development: Gay Lawrence, Valerio Ventura
Los Angeles Unit Artistic Supervisors
[
edit
|
edit source
]
Layout: Tom Shannon, Scott Caple
Background: Sunny Apinchapong
Clean-Up: Vera Lanpher-Pacheco
Visual Effects: David "Joey" Mildenberger
Production Manager: Rebecca Pahr Huntley
Journeymen: Arden Chan, Jeff Dickson, Craig Anthony Grasso, Andrew Hickson, Tom Humber, Richard Carl Livingston, Peter Bielicki, Edward Ghertner, Gary Mouri, Jeff Purves, Doug Walker, Sherilan Weinhart
Layout Key Assistants: Peter J. DeLuca, Andrew Edward Harkness, Armand Serrano, Kenneth Spirduso, Ray Chen, Craig Elliott, Yong-Hong Zhong
Layout Assistants: Tom Dow, William Samuel Hodman, Norbert Maier, Kevin Proctor, Franc Reyes, Dermot Walshe, Mark Kalesniko, Kevyn Wallace, Lam Hoang
Blue Sketch / Layout Modeler: Joann Tzuanos
Additional Blue Sketch: Noel C. Johnson, Madlyn Zusmer O'Neill
Supervising Animator: Mark Henn
Voice of Fa Mulan: Ming-Na Wen
Singing Voice of Fa Mulan: Lea Salonga
Voice of Fa Zhou: Soon-Tek Oh
Animators: Anthony Wayne Michaels, James Young Jackson, Rune Brandt Bennicke, Elliot M. Bour, Carol Seidl, Robert Espanto Domingo, Tom Gately, Mark Pudleiner
Supervising Animator: Ruben A. Aquino
Voice of Li Shang: B.D. Wong
Singing Voice of Li Shang: Donny Osmond
Voice of Fa Li: Freda Foh Shen
Animators: Joe Haidar, Philip Morris, Marcelo Fernandes De Moura, Theodore Anthony Lee Ty, Craig R. Maras, Bill Waldman
Supervising Animator: Tom Bancroft
Voice: Eddie Murphy
Animators: Charlie Bonifacio, Robert O. Corley, Dominic M. Carola, James Baker, Jamie Oliff, John Webber
Supervising Animator: Aaron Blaise
Voice of Yao: Harvey Fierstein
Voice of First Ancestor Fa: George Takei
Animators: Byron Howard, Christopher Bradley, Ian White
Supervising Animator: Broose Johnson
Voice of Chien Po: Jerry Tondo
Voice of Ling: Gedde Watanabe
Singing Voice of Ling: Matthew Wilder
Animators: Michael Benet, Bert Klein, Dan Wawrzaszek, Dave Kupczyk
Shan Yu & Hayabusa the Falcon & Elite Hun Soldiers
[
edit
|
edit source
]
Supervising Animator: Pres Antonio Romanillos
Voice of Shan Yu: Miguel Ferrer
Animators: Travis Blaise, Trey Finney, Tony Stanley, Anthony Ho Wong
Supervising Animator: Alex Kupershmidt
Voice of Khan: Frank Welker
Voice of General Li: James Shigeta
Animators: Sasha Dorogov, Branko Mihanovic
Supervising Animator: Jeffrey J. Varab
Voice of Chi-Fu: James Hong
Voice of Grandmother Fa: June Foray
Animators: Darko Cesar, Todd Waterman, Jerry Yu Ching
Supervising Animator: Barry Temple
Supervising Animator: T. Daniel Hofstedt
Voice: Pat Morita
The Matchmaker Lead Animator: Brian Ferguson
Voice of The Matchmaker: Miriam Margolyes
Little Brother Lead Animator: Shawn Keller
Paulo R. Alvarado, Jonathan Annand, Gregg E. Azzopardi, Brad Condie, Krista Heij, John Hurst, Steve Mason, Paul McDonald, Karen Tremblay, David W. Zach, Edmund Gabriel, Clay Kaytis, Mark Alan Mitchell, Chris Sonnenburg, Michael Wu
Caroline Cruikshank, Phil Young, William Recinos, Michael Genz
Additional Rough Inbetweeners
[
edit
|
edit source
]
George Benavides, Mike D'Isa, Benjamin Gonzalez, Grant Hiestand, Joseph Mateo, Mario J. Menjivar, Gary D. Payne, Bobby Alcid Rubio, Wes Sullivan, Aliki Theofilopoulos
Supervising Animator: Rob Bekuhrs
Animators: Sandra Maria Groeneveld, Chadd Ferron
Assistant Animators: James Michael Crossley, Patricia A. Hannaway, Jason William Wolbert
Supervisor: Hanns-Oskar Porr, Marty Altman, Joel Davis, Tad Gielow
Supervisor: Bruce D. Buckley, Sean Locke, Thomas C. Meyer
Supervisor: Tony Plett, Kathy Kershaw Barshatzky, Michael McNeill, Chalermpon "Yo" Poungpeth, Heather Pritchett, Alan Davidson
Render I/O Administrator: Brad Smith
Digital 3D Modeler: Raleigh L. Swick II
Charles R. Vollmer, Barry R. Kooser, David Ying Guang Wang, Peter Moehrle, Sean Sullivan, Xiangyuan Jie, William T. Silvers, Jr., Xin-Lin Fan, Barbara Massey, George Taylor, Kevin McNamara, Ron DeFelice, David Murray, Marisa Fidanza, Christopher F. Greco, John Lee, Geraldine Kovats, Brad Hicks, Kelly McGraw, David Yorke
Digital Painting: Kathy Schoeppner, Christine Laubach
Additional Backgrounds: Ian S. Gooding, Maryann Thomas, Michael Kurinsky, David Wesley Jarvis, Keith Newton
Scene Planning/Camera: John Cunningham
Animation Check: Laurie Sacks
2D Animation Processing: Jan Barley Gutowski
Color Models: Irma Cartaya
Paint/Final Check: Hortensia M. Casagran
Final Check: Michael D. Lusby
Digital Film Print: Brandy Hill
Key Lead: Daniel A. Gracey
Key Assistants: Rachel Renee Bibb, Pamela Mathues, Renee Holt, Merritt F. Andrews, Marcia Kimura Dougherty, Lee Dunkman, Akemi Gutierrez, Myung Kang Teague, Marianne Tucker, Elizabeth S. Watasin, Eunice (Eun Ok) Yu, Steve Lubin
Assistants: Todd Bright, Seung Beom Kim, Rosana Urbes, Ron Zeitler, Cynthia Jill French
Breakdown: Benjamin William Adams, Kevin A. Barber, Phillip A. Jones, Richard C. Trebus Jr., Rebecca Wrigley, Cyndy Bohonovsky. Kimberly Dwinell, Steve Lenze, Cathie Karas Wilke
Inbetweeners: Russell Braun, David Mar, Sarah Mercey-Boose, Clarence "Boola" Robello, Jacqueline M. Shepherd, Matt Whitlock, Jeffery B. Harter, Jeff W. Hong, Dietz Toshio Ichishita, James Anthony Marquez, Jong Won Park
Key Lead: Bryan M. Sommer
Key Assistants: Dan Daly, Caroline Clifford, Teresita Quezada-Geer, Yung Soo Kim
Assistants: Scott A. Burroughs, Chan Woo Jung, Mike Wiesmeier
Breakdown: Saul Andrew Blinkoff, James W. Elston, Cindy Ge, Sean Luo, Chang Yei Cho
Key Lead: David T. Nethery
Key Assistants: Sherrie H. Sinclair, Lon Smart, Edward R. Gutierrez, Calvin Le Duc, Wendy J. Muir
Assistants: Jason Peltz, Daniel Bond, Yoon Sook Nam, Jan Naylor
Breakdown: Nathan Greno, Eun Sang Jang, Stephanie Olivieri, Cheryl Polakow-Knight, Jim Snider
Inbetweeners: Janice Armiger, Dominic A'Vant, Antoine Cunnigham, Jill Friemark
Key Lead: Monica Murdock
Key Assistants: Kim Torpey, Mi Yul Lee, Wesley Chun
Assistant: Virginia Wolf Browning
Breakdown: Philip J. Allora, Alex McDaniel, Frank Montagna, Jr.
Key Lead: Philip S. Boyd
Assistant: Phil Noto
Breakdown: Will Huneycutt
Inbetweeners: Tim Massa, Keith A. Sintay, T.C. Starnes, Jr., Robert Lee Williams Jr.
Key Lead: Tom Fish
Key Assistants: Vincent Siracusano, John R. Walsh
Assistants: Ron Cohee, John O'Hailey
Breakdown: Donald Crum, Ilan Wexio Hatukah, Peter Raymundo
Inbetweeners: Carlos R. Arancibia, Jason Boose, Danny R. Santos, Woody Woodman
Shan Yu & Hayabusa the Falcon & Elite Hun Soldiers
[
edit
|
edit source
]
Key Lead: Christine Lawrence-Finney
Key Assistants: James A. Harris, Yer (Za) Vue, Dan Tanaka, Tracy Mark Lee
Assistants: Augusto Borges Bastos, Richard S. Morgan
Breakdown: Frank R. Cordero, Tom de Rosier
Inbetweeners: Chad Thompson, Michael Ludy
Key Lead: Sam Ewing
Key Assistants: Samantha Lair, Darren R. Webb, Stephan Zupkas, Judith Barnes, Karen Hardenbergh, Terry Naughton
Assistants: Katherine Blackmore, John J. Pierro, George Sukara
Breakdown: Edward B. Goral, Ronald John Westlund
Key Lead: Scott Anderson
Key Assistant: Jane Zhao
Assistants: Kevin Deters, Mary-Jean Repchuk
Breakdown: Lisa G. Lanyon, Patrick Tuorto
Key Lead: Kellie D. Lewis
Assistants: Antony de Fato, Amy Drobeck
Key Lead: Rusty Stoll
Key Assistant: Roland Mechael B. Ilagan
Inbetweeners: Janelle Bell-Martin, Eddie Pittman
Key Lead: Kathleen M. Bailey
Key Assistant: Inna Chon
Breakdown: Ely Lester, Whitney B. Martin, Chun Yin Joey So
Key Lead: Ruben Procopio
Key Assistants: Tom LaBaff, Jang Woo Lee, Maurilio Morales, Thomas Thorspecken, Carl Philip Hall, Leticia Lichtwardt, Michael G. McKinney, Marsha W.J. Park-Yum, Dana M. Reemes, Dave Suding
Assistants: Brian Beauchamp, Carl A. Bell, Brigitte T. Franzka-Fritz, Doug Post
Breakdown: Stephen Nelson Austin, Tammy Daniel-Biske, Perry Farinola, Daniel Lawrence Riebold, Elsa Sesto-Vidal, Ronnie Williford, Jim Brummett, Larry R. Flores, Cliff Freitas, Brian D. Kennon, Denise Meehan, Justin "Dusty" Wakefield
Inbetweeners: Jean Cullen De Moura, Tony Santo, Casey Coffey, Sean Anthony Jimenez, Patrick McClintock, Jane Misek
Additional Clean-Up Animation
[
edit
|
edit source
]
Key Assistants: Sue Adnopoz, Tony Anselmo, Debra Armstrong-Holmes, Bill Berg, Jamie Kezlarian-Bolio, Jane Tucker Bonnet, Merry Kanawyer Clingen, Margie Daniels, Gail Frank, June Fujimoto, Ray Harris, Michael Hazy, Kris Heller, Allison Hollen, Emily Jiuliano, Celinda S. Kennedy, Kaaren Lundeen, Miriam McDonnell, Brian B. McKim, Lieve Miessen, Dorothea Baker Paul, David Recinos, Richard D. Rocha, Maria Wilnelmina Rosetti, Randy Sanchez, Susan Y. Sugita, Natasha Selfridge, Peggy Tonkonogy, Marshall Lee Toomey, Trevor Tamboline, Alex Topete, Terry Wozniak
Assistants: Mary Jo Ayers, Todd Ammons, Lillian Amanda Chapman, Diana Coco, Teresa Eidenbock, Louis Gallegos, Kevin M, Grow, Kent Holaday, Rick Kohlschmidt, Janet Heerhan Kwon, Daniel Yoontaek Lim, Annette Morel, Brain Mainolfi, Mary Measures, Martin D. Schwartz, Bill Thinnes
Breakdown: Munir A. Bhatti, Daniel Bowman, Aidan Flynn, Carolyn F. Gliona, Jody Kooistra, Allison Renna, Hugo Soriano, Steven K. Thompson
Inbetweeners: Raul Aguirre, Frank Dietz, Nickolas M. Frangos, Matthew Haber, Cynthia Landeros, Kimberly Moriki Zamlich, Bob Persichetti, Flora Sung Sook Park, Kathleen Thorson
Visual Effects Animators: Garrett Wren, Troy A. Gustafson, Robert Bennett, Jazno Francoeur, Joseph F. Gilland, Stephen McDermott, John David Thornton, Tony West, Allen Blyth, Colbert Fennelly, Michael Cadwallader-Jones, Dorse A. Lanpher, Dan Lund, James DeValera Mansfield, Kevin O'Neil, Cynthia Neill Knizek
Effects Animating Assistant: John Fargnoli
3D Visual Effects Animators: Guner Behich, Darlene E. Hadrika
Effects Key Assistants: Kristine Humber, Paul Kashuk, Jr., Michael L. Oliva, Paitoon Ratanasirintrawoot, Mabel Gesner, Jon William Lopez, Joseph Christopher Pepe, Steve Starr, John Tucker
Effects Assistants: Paul Briggs, Derrick Lee McKenzie, Gary Schumer, Lora M. Spran, Kristine Brown Dennis Spicer, Van Shirvanian
Effects Breakdown: Adeboye Adegbenro, Stella P. Arbelaéz Tascón, Robert Blalock, Michael Todd Montgomery, Christopher R. Page, Rochelle Doriot Smith, Faris Al-Saffar, Jay Baker, Melinda Wang, Nicole Alene Zamora
Effects Inbetweeners: Verrell "Skip" Bowers, John Cashman, William J. Haas, Sean Simon Ramirez, Mark Delaine Rath, Heather M. Shepherd, Gary L. Gallegos, Tatiana Kellert, Ron Pence, Jeffrey S. Tse
Additional Visual Effects Animation
[
edit
|
edit source
]
Animators: Mauro Maressa, Phillip D. Vigil, Marlon West
Key Assistants: Nate Pacheco, Amanda J. Talbot, Michael Anthony Toth, Graham Woods
Inbetweeners: Kristin K. Fong-Lukavsky, Jay Shindell
Effects Data Entry: Kip Lanai Stone, Gary Stubblefield
Directors of Production: Don Winton, David Steinberg
Senior Manager, Production: Gretchen Maschmeyer Albrecht
Senior Manager, Scene Planning/Camera: Joe Jiuliano
Caps Manager: Fran Kirsten
Manager, Digital Production: Randy Parker
Administrative Manager: Maggie Walsh
Assistant Artistic Coordinator: Pam Manes Darley
Digital Trailer Effects: Michael Curtis
Assistant Production Managers
[
edit
|
edit source
]
Story: Bruce Seifert
Visual Development: Cathy Lawrence
Editorial and Recording: Theresa Bentz
Layout: Ingrid M. Sander
Character Animation: Sheri Croft
Sweatbox: Kevin Wade
Clean-Up: Alex Chatfield
Computer Animation: Stephen R. Craig, Aimee Scribner
Visual Effects: Matthew Garbera
Color Models: Diana Blazer
Backgrounds and Animation Check: Jackie L. Shadrake
CAPS and Retakes: Fred Berning, Jr.
Production: Bruce Anderson
California Layout and Backgrounds: Jenni Magee-Cook
California Clean-Up: Wendy L. McNeny
California Visual Effects: Kimberley Gray
California CAPS Disk Space and Retakes: Shawne Zarubica
Vice President Of Production: Leo Chu
Sequence Artist: Fred Lucky
Creative Consultant: Melany Maximus
Social Marketing: Rick Schirmer
Production: Kristina M. Wentz
California CAPS Disk Space and Retakes: Brenda McGirl
California Scene Planning: Katherine A. Kettering
California CAPS: Kirsten A. Bulmer
Mary Lescher, Cynthia Goode, Paul Steele
Assistant Scene Planner/Camera: Karen N. Austin
Additional Scene Planning: Thomas Baker, S.J. Bleick, Mark Henley, Ronald J. Jackson, David J. Link
Scene Planning Pre-checker: Christopher Holland
Reuse Librarian: Vicki Casper
Senior Checker: Daniel Cohen
Animation Checkers: Victoria Winner Novak, Albert Francis Moore, Jacqueline Hooks-Winterlich, Willis Middleton
Additional Animation Checkers: Denise M. Mitchell, Helen O'Flynn, Gary G. Shafer
Barbara J. Poirier, Sarah J. Cole, Todd LaPlante, David Braden, Michael Alan McFerren, Val D'Arcy
Additional 2D Animation Processors: Robyn L. Roberts, Karen N. China, Lynnette E. Cullen, Jo Ann Breuer, David J. Rowe, Robert Lizardo, Richard J. McFerren, Stacie K. Reece
Debra Y. Siegel, Kenneth C. Landrum, Pamela L.V. Henn, Barbara Lynn Hamane, Sylvia I. Sanchez, Debra Jorgensborg
Color Stylist Trainees: Sarah Fancher, Cheryl Davis
Color Model Mark-Up/Registration: Karrie Keuling Michaels, Laura Lynn Rippberger, Sally Nolan-Smith, Cynthia Kay Sager, Sherrie Cuzzort, Karan Lee-Storr, David J. Zywicki
Assistant Supervisors, Painting: Irma Velez, Russell Blandino, Phyllis Estelle Fields
Retakes / Paint: Suzie Ewing, Debra A. Ptaskiewics
Paint Mark-Up: Leyla C. Amaro-Pelaez, Roberta Lee Borchardt, Sally-Anne King, Barbara Newby, Bonnie A. Ramsey, Myrian Ferron Tello
Painters: Carmen Sanderson, Joyce Alexander, Bill Andres, Kirk Axtell II, Phyllis Bird, Joey Calderon, Ofra Afuta Calderon, Janice M. Caston, Sybil Elaine Cuzzort, Florida D'Ambrosio, Robert Edward Dettloff, Nika Dunne, Christina Frazier, Paulino Garcia, Dawn Gates, Patricia L. Gold, Debbie Green, Stevie Hirsch, David Karp, Angelika R. Katz, Kukhee Lee, Beth Ann McCoy-Gee, Deborah Jane Mooneyham, Karen Lynne Nugent, Kenneth O'Malley, Bruce Gordon Phillipson, Rosalinde Praamsma, Heidi Woodward Shellhorn, Eyde Shepperd, Grace H. Shirado, Don Shump, Fumiko Roche Sommer, S. Ann Sullivan, Roxanne M. Taylor, Tami Terusa, Britt-Marie Van Der Nagel
Assistant Manager, Ink & Paint: Chris Hecox
Assistant Supervisor: Teri N. McDonald
Final Checkers: Andrew Simmons, Monty C. Maldovan, Monica Albracht Marroquin, Lea Dahlen, Catherine Mirkovich-Peterson, Misoon Kim
Compositors: Jason Leonard Robert Buske, Earl Scott Coffman, Timothy B. Gales, Michelle Sammartino, Dolores Pope
Assistant Supervisor: James "JR" Russell
Digital File Services: Joseph Pfening
Digital Film Printing & Opticals
[
edit
|
edit source
]
Assistant Supervisor: Tony Poriazis
Camera / Film Recorder Operators: John D. Aardal, John Derderian, Jennie Kepenek Mouzis, Bill Fadness
Quality Control: Chuck Warren
Camera Operations Coordinator: Jeanne E. Leone-Sterwerf
Associate Editors: William J. Caparella, Albert Coleman
Animation Editor: James Melton
First Assistant Editors: Danny Retz, Patsy Bougé, Sharon Smith Holley, Derrick Mitchell
Assistant Editors: David Teller, James D. Kirkpatrick, Gary Blair, Bill Shaffer, Robert Brakey, Julie Rogers, Lisa Willinger
Assistant Animation Editors: Beth Collins-Stegmaier, Hermann H. Schmidt
Development Editor: Victor Livingston
Additional Story Material by: Linda Woolverton, Jodi Ann Johnson, Alan Ormsby, David Reynolds, Don Dougherty, Joseph Ekers, Daan Jippes, Jorgen Klubien, Teddy Newton, Frank Nissen, Denis Rich, Larry Scholl, Jeff Snow
Casting by: Ruth Lambert & Mary Hidalgo
(in Alphabetical Order)

The Raider: David Allsberry
Voice of Brittany: Christina Applegate
Oscar The Lizard: Will Arnett
Puss In Boots: Antonio Banderas
Simone: Adrienne Barbeau
Pocahontas: Irene Bedard
Daphne: Mary Kay Bergman
Lenny: Jack Black
The Raider: Michael Boxer
Narrator: Roscoe Lee Browne
Dru/Gru: Steve Carell
Bart Simpson: Nancy Cartwright
Homer Simpson: Dan Castellaneta
Lena: Tara Charendoff
Elmo: Kevin Clash
Beau: Cam Clarke
Jacques/King James/Pelican: Jim Cummings
Fiona: Cameron Diaz
Voice of Jeanette: Anna Faris
Shan Yu: Miguel Ferrer
Yao: Harvey Fierstein
Fa Li: Freda Foh Shen
Grandmother Fa: June Foray
John Smith: Donal Gibson
Rocky: Mel Gibson
Mr. Beeman: Ed Gilbert
Snakebite Scruggs: Mark Hamill
Manny: Jonathan Harris
Mr Tweedy: Tony Haygarth
The Raider: Ric Herbert
Owlette: Addison Holley
Chi-Fu: James Hong
Queen Anne: Finola Hughes
Pocahontas: Judy Kuhn
Grandmother Willow: Linda Hunt
Elastigirl/Helen Parr: Holly Hunter
Scooby-Doo: Scott Innes
Marge Simpson: Julie Kavner
Ferdinand/Tug: Danny Mann
The Matchmaker: Miriam Margolyes
The Raider: Steve Martin
Powhatan: Russell Means
Dash/Dash Parr: Huckleberry Miller
Flynn: Patrick Warburton
Spongebob Squarepants: Tom Kenny
Patrick: Star: Bill Fabgerake
The Emperor of China: Pat Morita
Peter Maivia: Tamuera Morrison
Donkey/Mushu: Eddie Murphy
Shrek: Mike Myers
Bob Parr/Mr. Incredible: Craig T. Nelson
Don Lino: Robert De Niro
Singing Voice of Grandmother Fa: Marni Nixon
Fa Zhou: Soon-Tek Oh
Singing Voice of Li Shang: Donny Osmond
Voice of Eleanor: Amy Poehler
Heimlich: Joe Ranft
P.T. Flea: John Ratzenberger
Thorny: Alex Rocco
Marty: Chris Rock
Fugly Floom: Mickey Rooney
Wallace: Peter Sallis
Singing Voice of Fa Mulan: Lea Salonga
Melman: David Schwimmer
Lisa Simpson: Yeardley Smith
General Li: James Shigeta
Gloria: Jada Pinknett Smith
Oscar: Will Smith
Hopper: Kevin Spacey
Mrs. Jenkins: Jean Stapleton
Ratcliffe: David Ogden Stiers
Alex: Ben Stiller
First Ancestor Fa: George Takei
Chien Po: Jerry Tondo
Violet/Violet Parr: Sarah Vowell
Padded Raider: John Walton
Velma: B.J. Ward
Chris: Jennifer Leigh Warren
Ling: Gedde Watanabe
Scrat: Chris Wedge
Fred / Khan: Frank Welker
The Raider: Hubert Wells
Fa Mulan: Ming-Na Wen
Shaggy: Billy West
Lucy: Kristen Wiig
Singing Voice of Ling: Matthew Wilder
The Raider: Felix Williamson
Li Shang: B.D. Wong
John Rolfe: Billy Zane
Additional Voices: Carlos Alazraqui, Newell Alexander, Rosemary Alexander, Steve Alterman, Tom Amundsen, Jack Angel, Steve Apostolina, Arminae Austen, Jeff Bennett, Bob Bergen, Robert Bergen, Mary Kay Bergman, Jack Blessing, Susan Boyd, Mark Steven Brien, Kimberly Brown, Julianne Buescher, Steve Bulen, Rodger Bumpass, Anthony Burch, Corey Burton, Mitch Carter, June Christopher, Robert Clotworthy, David Cowgill, Jim Cummings, Jennifer Darling, Rachel Davey, James Dean, Debi Derryberry, Holly Dorff, Sally Dworsky, Paul Eiding, Jessica Evans, Bill Farmer, Beth Fowler, Don Fullilove, Elisa Gabrielli, Sam Gifaldi, Brad Garrett, Jack Gilpin, Brad Hall, Sandie Hall, Jess Harnell, Brenden Hickey, Kate Hodges, Richard S. Horvitz, Denise Johnson, Jonathan Joss, Linda Kerns, Matthew Labyorteaux, David Lander, John Lasseter, Conan Lee, Dana Lee, Edie Lehmann-Boddicker, Luisa Leschin, Hope Levy, Georgina Lightning, Sherry Lynn, Christina Ma, Danny Mann, Susan McBride, Mickie McGowan, Mickie T. McGowan, Courtland Mead, Scott Menville, Christine Milian, Haunani Minn, Edie Mirman, Mark Moseley, Kelsey Mulrooney, Ryan O'Donohue, Rob Paulsen, Jeff Pidgeon, Patrick Pinney, Phil Proctor, Jan Rabson, Gregg Rainwater, Joe Ranft, Jordan Ranft, Peter Renaday, Andrew Roa, Al Roker, Brian M. Rosen, Rebecca Schneider, Morgan Sheppard, Franchesca Smith, Kath Soucie, Aaron Spann, Jerry Sroka, Andrew Stanton, Hannah Swanson, Marjorie Tanin, Russie Taylor, Travis Tedford, Maurita Thornburg-Phillips, Ashley Tisdale, Lee Unkrich, John Walcutt, Jordan Warkol, Frank Welker, Claudette Wells, Russell Werkman, Lisa Wilhoit, April Winchell, Ruth Zalduondo
Score Produced by: Jerry Goldsmith
Songs Produced by: Matthew Wilder
Vocal Arrangements by: Matthew Wilder
Songs Recorded and Mixed by: Frank Wolf
Score Recorded and Mixed by: Bruce Botnick
Songs Arranged and Orchestrated by: Doug Besterman
Songs Conducted by: Paul Bogaev
Score Orchestration by: Alexander Courage
Additional Arranging by: Paul Buckmaster
Additional Score Orchestration by: Doug Besterman
Song Music Editors: Tom Kramer, Kathleen Fogarty-Bennett, Charles Paley
Supervising Music Editor: Ken Hall
Assistant Score Music Editor: Robert Bayless
Music Production Supervisor: Tod Cooper
Music Production Manager: Andrew Page
Music Coordinators: Deniece Larocca-Hall, Tom MacDougall
Orchestra Contractors: Sandy De Crescent, John Miller
Vocal Contractors: Bobbi Page, Jess Harnell, David Friedman
Additional Song Contractor: Reggie Wilson
Music Preparations: Jo Ann Kane Music Service, Tom Brown, Jim Hoffman,
Supervising Music Copyists: Dominic Fidelibus, Booker White
Music Recording Assistants: Andy Bass, Thom Cadley, Lois Carruth, Norman Dlugatch, Tom Hardisty, Andy Manganello, Andrew Page, Alan Sanderson, Richard Weingart, Paul Wertheimer
Music Recording Engineer: Chris Fogel
Pre-Production Vocal Casting: Sam Kriger
Music Recorded At: Ocean Way Recording, Paramount Pictures Scoring Stage M, Signet Soundelux Studios, Sony Music Studios, Todd-AO Scoring Stage
"Reflection" (Pop Version)

Performed by Christina Aguilera

98° and Stevie Wonder appear courtesy of Motown Record Company, L.P.
Christina Aguilera appears courtesy of The RCA Records Label
Florida Production Assistants: Ron Betta, Tony Cosanella, Eric Dapkewicz, Andrew Davenport, Nanette K. Drumtra, Tom Grealy, Michelle A. Hargrett, Jeff Hermann, Greg Hill, John Richard Hughes, Ilyssa Katz, Tom Kennedy, Chad F. Rogers, Kristin Rovno, Angela M. Smith, Ria Mashburn Smith, Colleen Elise Tomlinson, Shellie West, Judy Wolf
California Production Assistants: Rudy Cardenas-Rios, Stephanie C. Herrman, Deborah G. Dalton, Flynn Falcone, Philip B. Isaacs, Renato Lattanzi, Michael Nuckols, John Damien Ryan, Michele Silverstein, Jef B. Vowell, Sabrina Waterman, Tara Joan Brown, Tanja Knoblich
Administrative Assistant: Stephanie Green Spahn
California Administrative Assistant: Christine Ng Wong
Production Secretary: Virginia Perry Smith
California Production Secretaries: Michele Karpel, Patti Braskie
Casting Assistants: Meredith Layne, Stephen Blackehart, James Curreri, Tamlyn Freund
Additional Production Support: Carmen Regina Alvarez, Shannon Fallis-Kane, Mary Green, Vernette Griffee, Ivan Hall, Doug Nichols, Rosaleen O'Byrne, Lisa Padawer Ratanasirintrawoot, Saskia Raevouri, Patrick Sekino, Kevin Susman, Ann Tucker, Don Walters, Lisa Watts, Jennifer Westmoreland, Kelsi Wiggins
Directors of Production Accounting: Robert Bacon, Dennis Park
Production Accountant: Glen Gagnon
Assistant Production Accountants: Todd Michel, Shirley Collier
California Production Accountant: Kimberly Walters
California Assistant Production Accountant: Nancy Guo-Gustafsson
Character Sculptures: Tony Cipriano, Kent Melton
Dialogue Coach: Susan Hegarty
Martial Arts Fight Advisors: B.H. Barry, Vincent Lyn
Martial Arts Reference: Mimi Chan, George Kee Cheung, Brian Mainolfi
Video Reference Cast: Pauline A. Locsin, Anthony Sago, Savino Bellini, Ray Siefert, Anne Geiger Wenckus
Video Reference Crew

Cameramen: John Bender, Marten Kaufman
Props/Costumes: Chris Carpenter
Senior Manager: Enrique Santos, Raul Anaya, Natalie Acosta, Matt Bialosuknia, Carol J. Choy, Charles Collins, Jefferson Crutchfield, Larry Grant Edminister, Christine E. George, Don Gworek, Dwayne Harris, Dana Haukoos, Jason Hilkey, R. Todd King, Jerry Lynn Lake, Barbara LeBruno, Tina O'Hailey, John Outten, Carmen Binette Perreault, James Pirzyk, Deborah L. Snead, Tom Talbot, John Wheeler
California Technology Crew
[
edit
|
edit source
]
Digital Production Manager: Kirk Bodyfelt
Manager, Systems Support Southside: Michael R. Fodor
Manager, 2D Software: Kevin J. Hussey
Manager, Core/3D Software: Edwin R. Leonard
Manager, Media Group: Thomas Moore, Jr.
Manager, Systems Development: James J. Sepe, Graham S. Allan, Richard M. Barnes, Glenn C. Bell, Michael S. Blum, Michael C. Bolds, Brad Brooks, Letha L. Burchard, Mark Roy Carlson, Nhi Hua Casey, Loren Chun, Peter Lee Chun, Michael Clay, Ray C. Coleman, Bernard O. Ceguerra, Lawrence Chai, Scott Dolim, Elena Driskill, Norbert Faerstain, Robert Falco, Kevin G.J. Freels, Mark W. Gilicinski, Maria Gomez de Lizardo, John D. Hoffman, Le Hua, Shyh-Chyuan Huang, James P. Hurrell, Kevin E. Keech, Kimberly W. Keech, Daniel C. Kim, Michael R. King, Hans Ku, Mark Kimball, Mike Larkin, Li-Ming "Lawrence" Lee, Sally Lee, Stanley B. Lippman, James MacBurney, Michael A. McClure, Kevin A. McGuire, Jim Meyer, Christopher D. Mihaly, Thaddeus P. Miller, Robert A. Mortensen, Jack Muleady, MaryAnn McLeod, Jeff Nash, Michael Neville, Lyle S. Nojima, Troy Norin, David Oguri, Keith Otis, Ron L. Purdy, Carlos Quinonez, Lisette Ranga, David Remba, Jeff Rochlin, Kaizhen Ruan, Michael Saitta, Nasser B. Salomon, Fe Alcomendas Samala, James A. Samuel Sandweiss, Todd Scopio, Jeffrey L. Sickler, John Stimson, Charles Stoner, Sandy Sunseri, Joe Suzow, Mark M. Tokunaga, Laurie Tracy, Mary Jane "M.J." Turner, Jon Y. Wada, Doug White, Derek Elliott Wilson, Tomas A. Wong, Fran R. Zandonella, Michael Zarembski
Industrial Light And Magic
[
edit
|
edit source
]
Visual Effects Producers: Tom Kennedy, Ned Gorman
Visual Effects Supervisors: Alex Seiden, John Knoll, Dave Carson, Stephen Williams, Dennis Muren, Joseph Letteri, Bruce Nicholson
Second Unit Director & Cameraman: Joe Murray
Visual Effects Art Directors: Ty Ruben Ellingson, Mark Moore
Computer Graphics Supervisor: John Berton
Visual Effects Editor: David Tanaka
Digital Color Timing Supervisor: Bruce Vecchitto
Sabre Group Supervisor: Daniel McNamara
Digital Scanning Supervisor: Joshua Pines
Visual Effects Coordinators: Margaret Lynch, Lisa Todd
Computer Graphics Artists: Karen Ansel, Mark Austin, Amelia Chenoweth, Terry Chostner, David Deuber, Natasha Devaud, Selwyn Eddy, Howard Gersh, Paul Giacoppo, Joanne Hafner, James Hagedorn, Carol Hayden, Matt Hendershot, Guy Hudson, Stewart Lew, Jodie Maier, Greg Maloney, Stuart Maschwitz, Julie Neary, Kerry Nordquist, Scott Pasko, Damian Steel, Danny Taylor, Paul Theren, James Tooley, Chris Townsend, Timothy Waddy
Digital Matte Artists: Paul Huston, William Mather, Yusei Uesugi
Sabre Artists: Rita Zimmerman, Chad Taylor, Grant Guenin
Software Development: Christian Rouet, Rod Bogart, Brian Knep
Production Engineering: Fred Meyers, Gary Meyer, Marty Miramontez
Digital Plate Restoration Artists: Alan Bailey, Scott Bonnenfant, Corey Rosen
Negative Supervisor: Doug Jones
Assistant Visual Effects Editors: Angela Leaper, Forest Key, Scott Balcerek
Digital Production Assistants: Kela Hicks, Ronn Brown
Animatics Artist: David Dozoretz
CG Resource Managers: Nancy Jill Luckoff, Lam Van To
CG Production Manager: Suzie Vissitzky Tooley
Post Production Supervisor: Bérénice Robinson
Director, Post Production: Sara Duran
Post Production Coordinators: Marisa Johnston, Heather Jane MacDonald-Smith, Robert H. Bagley
Post Production Engineer: Michael Kenzi Tomizawa
Re-Recorded at: Buena Vista Sound Studios
Re-Recording Mixers: Terry Porter, C.A.S., Mel Metcalfe, Dean A. Zupancic
Original Dialogue Mixer: Doc Kane
Post Production Sound Services by: Soundelux
Sound Design and Supervision by: Lon E. Bender
Dialogue and ADR Supervisor: Curt Schulkey
Foley Supervisor: Kelly Oxford
Sound Editors: Bryan Bowen, Hector Gika, Peter J. Lehman, Martin Lopez, Dan Rich, Michael Tempo, Christopher Assells, Chris Hogan
Additional Sound Editor: Mark Ormandy
First Assistant Sound Editor: Gayle Wesley
Assistant Editor: David Stanke
Foley Stage: Soundelux Vine Street Studios
Foley Artists: James Moriana, Catherine Harper
Foley Mixer: David W. Alstadter
Foley Recordist: Linda Lew
Dubbing Recordists: Jeannette Browning Hernandez, Erik Flockoi
Pre-Mix Recordist: Steve Kohler
PDL: Judy Nord, Jeannette Cremarosa
Additional Dialogue Recorded by: Vince Caro, Scott Webber
Black and White Processing: John White
Color Timers: Terry Claborn, Dale E. Grahn
Negative Cutters: Mary Beth Smith, Rick Mackay
Title Designs by: Susan Bradley, Matt Seckman
Titles by: Buena Vista Imaging
Title Opticals Supervisor: Mark Dornfeld
Special Edition Digital Remastering Provided By: Skywalker Sound A Lucas Digital Ltd. Company
De-Hiss Processing By: Cedar Dh-1, Hhb Communications Inc.
Film Restoration Consultant: Leon Briggs
Optical Restoration: Pacific Title & Art Studio
Film Restoration By: YCM Laboratories
Projection: Don Henry, Deem Rahall
Prints by: Technicolor®
Produced and Distributed on: Eastman Film
Producer: Rick McCallum
Editor: T.M. Christopher
Sound Designer: Ben Burtt
Re-Recording Mixer: Gary Summers
Assistant Editor: Samuel Hinckley
Sound Editor: Teresa Eckton
Assistant Sound Editor: Robert Marty
Re-Recordist: Ronald G. Roumas
Digital Mix Technician: Gary A. Rizzo
Archivist: Tim Fox
Optical Supervisor: Phillip Feiner, Chris Bushman
Film Restoration Supervisor: Pete Comandini
Color Timer: Robert J. Raring
Negative Continuity: Ray Sabo
Negative Cutter: Bob Hart
Post Production Executive: Ted Gagliano
Executive in Charge of Production: Edward Hansen
Executive in Charge of Production for Walt Disney Studios: Jeffrey Katzenberg
Executive in Charge of Casting for Walt Disney Pictures: Christian Kaplan
Executive in Charge of Production for Sony Wonder: Becky Mancuso-Winding
Computer Systems Graphics: Image West, Ltd. and The Lucasfilm Computer Graphics Project
Animation Produced by: Walt Disney Feature Animation
Thank you to the Walt Disney Feature Animation Support Staff and our families. Your patience and dedication bring honor to us all.
This Film is Dedicated to
Don Messick
The Original Voice of Scooby-Doo
1926-1997
No. 36035 Motion Picture Association of America
This Picture Made Under the Jurisdiction of I.A.T.S.E.-IA, Affiliated with A.F.L.-C.I.O.-C.L.C.
Dolby Digital® In Selected Theatres
SDDS Sony Dynamic Digital Sound™ In Selected Theatres
Digital DTS Sound™ In Selected Theatres
Copyright © MCMXCVIII Disney Enterprises, Inc. All Rights Reserved
This motion picture was created by Walt Disney Pictures and Television for purposes of copyright law In The United Kingdom.
The characters and incidents portrayed and the names used herein are fictitious, and any similarity to the name, character or history of any person is entirely coincidental and unintentional.
This motion picture photoplay is protected pursuant to the provisions of the laws of the United States of America and other countries. Any unauthorized duplication and/or distribution of this photoplay may result in civil liability and criminal prosecution.
Soundtrack Available on Cassete and Compact Disc from Walt Disney Records
CD-Rom Available From Disney Interactive
Distributed by Buena Vista Pictures Distribution
If you experienced any conditions that detracted from the theatrical presentation of the film, please call 1-800-PHONE THX or visit www.thx.com
Quality assurance services were provided by the THX Theater Alignment Program.
Lucasfilm THX
Theater Alignment Program
Community content is available under
CC-BY-SA
unless otherwise noted.