Opening Logos
Opening Titles
"It's the Muppets!"
"More Muppets, Please!"
Ending Credits
Produced by: Electra McDowell, David Gumpel, Ritamarie Peruggi
Production Coordinator: Jason Bielski
Production Assistants: Jonathan Murphy, Leslie Converse
Online Editor: Mark J. Oberthaler
Opening: Greg Oyen, John Zawisha
Sound: Grant Maxwell, John Bowen
The Muppet Show
Directed by: Peter Harris, Philip Casson, Jim Henson
Written by: Jerry Juhl, Joseph A. Bailey, Jack Burns, Jim Henson, Chris Langham, Marc London, David Odell, James Thurman, The Hatrack, Don Hinckley
Starring the Muppet Performers: Frank Oz, Jerry Nelson, Richard Hunt, Dave Goelz, Louise Gold, Peter Friedman, Steve Whitmire, Kathryn Mullen, Karen Prell, Brian Meehl, John Lovelady, Eren Ozker, Fran Brill, Cynthia Adler, Graham Fletcher, Jane Henson, Jim Henson
The Muppet Designers: Bonnie Erickson, Amy Van Gilder, Caroly Wilcox, Mari Kaestle, Jan Rosenthal, Robert Payne, John Lovelady, Rollin Krewson, Barbara Davis, Cheryl Henson, Jane Gootnick, Tim Miller, Dave Goelz, Ed Christie, Nomi Fredrick, Sherry Amott, Calista Hendrickson, Larry Jameson, Faz Fazakas, Don Sahlin
Muppet Costumes by: Calista Hendrickson, Polly Smith
Muppet Workshop Supervisors: Robert McCormick, Sara Paul, Amy Van Gilder
Muppet Costume Designer: Bonnie Erickson
Muppet Design Consultants: Michael K. Frith, Frank Oz, Bonnie Erickson
Creative Consultants: Frank Oz, Jocelyn Stevenson, Duncan Kenworthy
Special Puppets by: Don Sahlin
Orchestra Conducted by: Jack Parnell
Music Consultants: Larry Grossman, Ray Charles
Musical Associate: Derek Scott
Theme Music: Sam Pottle
Floor Managers: Richard Holloway, Martin Baker, Stephen Springfold, Trevor Lowndes, Guy Frazer-Jones
Art Directors: David Chandler, Su Chases, Paul Dean, Henry Graveny, Bryan Holgate, Richard Lake, Leigh Malone, Richard Plumb, Malcolm Stone, Anthony Walker, Robert Hackborn
Choreographers: Norman Maen, Gillian Lynne
Lighting Directors: Phil Hawkes, John Rook, Jim Boyers, Hamilton J. Willis, Gordon Luker
Audio: Henry Bird, Roger Knight, Len Penfold, Ted Scott, Bob Woodhouse
Videotape Editors: Al Pigden, John Hawkins, Tim Waddell, Jack Walker
Stage Managers: Alani Bray, Katie Coley, Caryl Cruickshank, Sara Paul, Clare Sanford
Assistants to the Producers: Joan Chaplow, Joan Hawkins, Susan Paul, Sue Taylor
Produced by: Jack Burns, Jim Henson, Duncan Kenworthy, Lawrence S. Mirkin
Executive Producers: Lew Grade, David Lazer, Jim Henson
Copyright Screen
© MCMXCII Jim Henson Productions, Inc.
Soundtrack Available Screen
Music from "The Muppet Show" Available on Jim Henson Records
Closing Logos
Jim Henson Video · Distributed by Buena Vista Home Video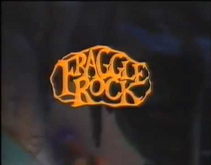 Opening Credits
"Fraggle Rock"
with Jim Henson's Muppets
Title
Closing Credits
FRAGGLE ROCK