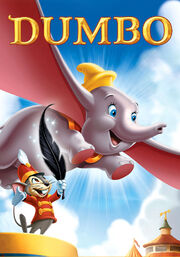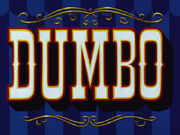 1941 Opening Logos
[
]
Walt Disney Productions
P.I.X.A.R.
Troublemaker Films
RKO Radio Pictures
1941 Opening Credits
[
]
Walt Disney and Pixar and Troublemaker
Presents
A Max Fleischer and Famous Studios Production
"Dumbo"
Based on the Book by: Helen Aberson & Harold Pearl
Photography In Deluxe® Prints by Technicolor®
©Copyright MCMXLI Walt Disney Productions · All Rights Reserved
Approved MPAA Certificate No. 6809
This picture has made the jurdisction of I.A.T.S.E.-IA, affiliated with A.F.L.-C.L.O.
RCA Sound System
Special Sound Effects by Sonovox
Supervising Directors: Ben Sharpsteen, Dave Fleischer
Director: John Elliotte
Assistant Directors: Richard Lyford, Larry Lansburgh, Lloyd Richardson, Clyde Geronimi, Don Duckwall
Screen Story: Joe Grant, Dick Huemer
Story Direction: Otto Englander
Sequence Directors: Norman Ferguson, Wilfred Jackson, Bill Roberts, Jack Kinney, Sam Armstrong, Winston Hibler, Wolfgang Reitherman, John Lounsbery, Bill Justice, Art Stevens, Clyde Geronimi, Hamilton Luske, Bob Cormack, Josh Meador, William Cottrell
Animation Directors: Vladimir Tytla, Fred Moore, Ward Kimball, John Lounsbery, Art Babbitt, Woolie Reitherman, Franklin Thomas, Chuck Jones, Vance Gerry, Ruben Aquino, Hamilton Luske, Milt Kahl
Puppetoon Creative and Photography: George Pal, John S. Abbott, Betty Lou Allen, Siska Ayala, Bob Baker, Leo Barkume, Dave Bater, Jan Bax, Hill Beekman, Lloyd Bockhaus, Carmelita Chapman
Story Development: Bill Peet, Aurie Battagila, Joe Rinaldi, George Stallings, Webb Smith, T. Hee, Ted Sears, Ralph Wright, Erdman Penner, Clarence Nash
Visual Development Artwork: Melvin Shaw
Voice Talents: Herman Bing, Billy Bletcher, Edward Brophy, Hal Johnson Choir, Cliff Edwards, Verna Felton, Humphrey Bogart, Noreen Gammill, Eddie Holden, Sterling Holloway, Malcolm Hutton, James MacDonald, Harold Manley, John McLeish, Tony Neil, Dorothy Scott, Sarah Selby, Billy Sheets, Nick Stewart, Chuck Stubbs, Margaret Wright
Character Designs: John P. Miller, Martin Provenson, John Walbridge, James Bodrero, Maurice Noble, Elmer Plummer
Music: Oliver Wallace, Frank Churchill
Lyrics: Ned Washington, Mack David, Ray Gilbert
Musical Direction: Ken Darby, Leigh Harline, Larry Morey, Carl W. Stalling
Orchestration: Edward Plumb, Paul J. Smith, Charles Wolcott
Choral Arrangements: Hall Johnson Choir
Sound Recording: Harold J. Steck, Lovell Norman, Robert Cook
Sound Effects: James MacDonald, Ub Iwerks, Eustace Lycett
Negative Cutter: I.J. Wilkinson
Labaratory Color Timer: George Cave
Secretaries: Elsie Jane Donahue, Dee Worth, Lee Shipley, Dorothy Link, Dorris Pugsley, Eloise Tobelman
Visual Effects Artist: Milton Quon
Effects Animation: George Rowley, Sandy Strother, Jerome Brown, Don Tobin, Paul B. Kossoff, Jack Boyd, Dan MacManus
Art Direction: Herb Ryman, Terrell Stapp, Al Zinnen, Dick Kelsey, Bob Cormack, Ken O'Connor, Don Da Gradi, Ernest Nordli, Charles Payzant, John Hubley, X. Atencio, Saul Bass, ken Anderson, Robert Cormack, Lance Nolley, Hugh Hennesy, John Hubley, Don Griffith
Layouts: Ken O'Connor, Erdman Penner
Backgrounds: Claude Coats, Al Dempster, John Hench, Gerald Nevius, Ray Lockrem, Joe Stahley, Johnny Jensen, Alan Maley, Dick Anthony, Ray Huffine, Richard H. Thomas, Mique Nelson, Paul Julian, Eyvind Earle, Ralph Hulett, Art Riley
Animation: Hugh Fraser, Harvey Toombs, Milt Neil, Marvin Woodward, Hicks Locky, Eric Larson, Jerry Hathcock, Van Kaufman, Karl van Leuven, Howard Swift, Don Towsley, Les Clark, Claude Smith, Bill Justice, Paul Fitzpatrick, Ed Parks, Art Stevens, Retta Scott, Basil Davidovich, George Germanetti, Berny Wolf, Jack Campbell, Walt Kelly, Don Patterson, Cy Young, Art Moore, Franklin Grundeen, Al Coe, Ed Fourcher, Ray Patterson, Grant Simmons, Josh Meador, Bill Shull, Art Palmer, Warren Schloat, Stephen Bosustow, Paul Murry, John Reed, Art Babbitt, Ray Abrams, Preston Blair, Rex Cox, Bob Carlson, Walt Clinton, Al Coe, Frank Endres, Al Eugster, Eric Gurney, Hal King, Michael Lah, Kenneth Muse, Chic Otterstrom, Morey Reden, John Sibley, Irv Spector, Norman Tate, Don Williams, Marc Davis, Eric Cleworth, Juluis Svendsen, Richard Williams Ted Berman, Don Lusk, Dale Baer, Richard Rich, Dale Oliver, Hal Ambro, Tom Oreb
Fist Assistant Animator: Milton Quon, Iwao Takamoto, Bill Melendez
Assistant Animation: C. Melendez, Clarke Mallery, Ed Barge, Armin Shaffer, Martin Taras
Inbetweener: Milicent Patrick
Ink and Paint: Mary Jane Cole
Painter: Phyllis Bounds Detiege
Produced by: Fred Quimby
Closing Titles
[
]
THE END · A Walt Disney Production RKO Radio Pictures inc · For Victory U.S. War of the Bonds Buy Yours in This Theatre
Restoration Credits
[
]
Digital Film Restoration: Cinesite, Inc.
Audio Restoration: Buena Vista Sound
Project Supervision: Buena Vista Visual Effects and Walt Disney Feature Animation
Sound Restoration: Terry Porter, C.AS.
Technical Manager, Film Restoration: Leon Briggs
Color Restoration by YCM Labs: Pete Comandini, Richard Dayton, Don Hagens
Flim Editor: John Carnochan
Digital Mastering 2001 vhs and DVD: THX Ltd.
Digital Restoration: William L. Arance, Thomas Rosseter, Jim Carbonetti, Jazym Whitman, Heather Davis Baker, Oliver Sarda, James Valentine
Restoration Supervisor: Thomas J. Smith
Assistant Film Editors: George Cave, I.J. Wilkinson
Supervising Editor: Bill Melendez
Post Production Coordinator: Ben Starpsteen
Color Timer: George Cave
Negative Cutter: I.J. Wilkinson
Special Thanks To: John McKimson
And most of all Very Special Thanks to Humphrey Bogart 1899 - 1957 "the man who helped dumbo fly to Success"
Prints by Technicolor®
Dolby Stereo® In Selected Theatres
No. 6809 Motion Picture Association of America
This picture made under the jurisdiction of I.A.T.S.E.-IA, affiliated with A.F.L.-C.I.O-C.L.C.
©MCMXLI The Walt Disney Company All Rights Reserved
Distributed by: Buena Vista Pictures Distribution, Inc.
Closing Logos
[
]
1959 Re-Release
[
]
Walt Disney Productions
in
CinemaScope
Opening
[
]
Walt Disney Presents
A Max Fleischer and Famous Studios Production
"Dumbo"
Based on the Book by: Helen Aberson & Harold Pearl
Photography In Deluxe® Prints by Technicolor®
©Copyright MCMXLI Walt Disney Productions · All Rights Reserved
Approved MPAA Certificate No. 6809
This picture has made the jurdisction of I.A.T.S.E.-IA, affiliated with A.F.L.-C.L.O.
RCA Sound System
Special Sound Effects by Sonovox
Supervising Directors: Ben Sharpsteen, Dave Fleischer
Director: John Elliotte
Assistant Directors: Richard Lyford, Larry Lansburgh, Lloyd Richardson, Clyde Geronimi, Don Duckwall
Screen Story: Joe Grant, Dick Huemer
Story Direction: Otto Englander
Sequence Directors: Norman Ferguson, Wilfred Jackson, Bill Roberts, Jack Kinney, Sam Armstrong
Animation Directors: Vladimir Tytla, Fred Moore, Ward Kimball, John Lounsbery, Art Babbitt, Woolie Reitherman, Franklin Thomas, Chuck Jones
Puppetoon Creative and Photography: George Pal, John S. Abbott, Betty Lou Allen, Siska Ayala, Bob Baker, Leo Barkume, Dave Bater, Jan Bax, Hill Beekman, Lloyd Bockhaus, Carmelita Chapman
Story Development: Bill Peet, Aurie Battagila, Joe Rinaldi, George Stallings, Webb Smith, T. Hee
Voice Talents: Herman Bing, Billy Bletcher, Edward Brophy, Hal Johnson Choir, Cliff Edwards, Verna Felton, Humphrey Bogart, Noreen Gammill, Eddie Holden, Sterling Holloway, Malcolm Hutton, James MacDonald, Harold Manley, John McLeish, Tony Neil, Dorothy Scott, Sarah Selby, Billy Sheets, Nick Stewart, Chuck Stubbs, Margaret Wright
Character Designs: John P. Miller, Martin Provenson, John Walbridge, James Bodrero, Maurice Noble, Elmer Plummer
Music: Oliver Wallace, Frank Churchill
Lyrics: Ned Washington, Mack David, Ray Gilbert
Musical Direction: Ken Darby, Leigh Harline, Larry Morey, Carl W. Stalling
Orchestration: Edward Plumb, Paul J. Smith, Charles Wolcott
Choral Arrangements: Hall Johnson Choir
Sound Recording: Harold J. Steck, Lovell Norman
Sound Effects: James MacDonald, Ub Iwerks, Eustace Lycett
Negative Cutter: I.J. Wilkinson
Labaratory Color Timer: George Cave
Secretaries: Elsie Jane Donahue, Dee Worth, Lee Shipley, Dorothy Link, Dorris Pugsley, Eloise Tobelman
Visual Effects Artist: Milton Quon
Effects Animation: George Rowley, Sandy Strother, Jerome Brown, Don Tobin, Paul B. Kossoff
Art Direction: Herb Ryman, Terrell Stapp, Al Zinnen, Dick Kelsey, Bob Cormack, Ken O'Connor, Don Da Gradi, Ernest Nordli, Charles Payzant, John Hubley, X. Atencio, Saul Bass, ken Anderson, Robert Cormack, Lance Nolley, Hugh Hennesy, John Hubley
Layouts: Ken O'Connor
Backgrounds: Claude Coats, Al Dempster, John Hench, Gerald Nevius, Ray Lockrem, Joe Stahley, Johnny Jensen, Alan Maley, Dick Anthony, Ray Huffine, Richard H. Thomas, Mique Nelson, Paul Julian, Eyvind Earle
Animation: Hugh Fraser, Harvey Toombs, Milt Neil, Marvin Woodward, Hicks Locky, Eric Larson, Jerry Hathcock, Van Kaufman, Karl van Leuven, Howard Swift, Don Towsley, Les Clark, Claude Smith, Bill Justice, Paul Fitzpatrick, Ed Parks, Art Stevens, Retta Scott, Basil Davidovich, George Germanetti, Berny Wolf, Jack Campbell, Walt Kelly, Don Patterson, Cy Young, Art Moore, Franklin Grundeen, Al Coe, Ed Fourcher, Ray Patterson, Grant Simmons, Josh Meador, Bill Shull, Art Palmer, Warren Schloat, Stephen Bosustow, Paul Murry, John Reed, Art Babbitt, Ray Abrams, Preston Blair, Rex Cox, Bob Carlson, Walt Clinton, Al Coe, Frank Endres, Al Eugster, Eric Gurney, Hal King, Michael Lah, Kenneth Muse, Chic Otterstrom, Morey Reden, John Sibley, Irv Spector, Norman Tate, Don Williams
Fist Assistant Animator: Milton Quon
Assistant Animation: C. Melendez, Clarke Mallery, Ed Barge, Armin Shaffer, Martin Taras
Inbetweener: Milicent Patrick
Ink and Paint: Mary Jane Cole
Painter: Phyllis Bounds Detiege
Produced by: Fred Quimby
Closing Titles
[
]
THE END · A Walt Disney Production
1981 Re-Release
[
]
Opening Logos
[
]
Distributed by Buena Vista Distribution Co., Inc.
Opening Credits
[
]
Walt Disney Productions Presents
"Dumbo"
Based on the book by Helen Aberson & Harold Pearl
Supervising Director: Ben Sharpsteen
Screen Story: Joe Grant
Story Direction: Otto Englander
Sequence Directors: Clyde Geronimi, Hamilton Luske, Charles A. Nichols, Jack Kinney, Sam Armstrong
Story: Larry Clemmons, Ted Berman, David Michener, Peter Young, Burny Mattinson, Steve Hulett, Earl Kress, Vance Gerry
Creative Assistant to the Producer: Melvin Shaw
Dedicated to the Memory of Hans Conried
With the Voice Talents of: Herman Bing, Billy Bletcher, Edward Brophy, Hal Johnson Choir, Cliff Edwards, Verna Felton, Humphrey Bogart, Noreen Gammill, Eddie Holden, Sterling Holloway, Malcolm Hutton, James MacDonald, Harold Manley, John McLeish, Tony Neil, Dorothy Scott, Sarah Selby, Billy Sheets, Nick Stewart, Chuck Stubbs, Margaret Wright
Supervising Animators: Randy Cartwright, Glen Keane, Cliff Nordberg, Ron Clements, Frank Thomas, Ollie Johnston
Animation Consultant: Eric Larson
Character Animation: Ed Gombert, John Musker, Dale Oliver, Jerry Rees, Ron Husband, Dick N. Lucas, David Block, Jeffrey J. Varab, Chris Buck, Chuck Harvey, Hendel S. Butoy, Phil Nibbelink, Darrell Van Citters, Michael Cedeno, Phillip Young, Tim Burton, Don Lusk, Brad Bird, Nancy Beiman, Henry Selick, Bob Carlson, John Pomeroy, Al Coe, Tom Ray, Volus Jones, Linda Miller, Bill Justice, Dale Baer, John Lasseter, Lester Kline, Bill Kroyer, Ken O'Brien, Ed Love, Fred Hellmich, Heidi Guedel, Gary Goldman, Bud Luckey, Dan Haskett, Irv Anderson, Mike Gabriel, Andy Gaskill, Lorna Cook, Morey Reden, Don Bluth, Betsy Baytos, Steve Martino
Effects Animators: Ted Kierscey, Jack Boyd, Don C. Paul, Dorse A. Lanpher
Effects Assistant Animator: Patricia Peraza, Steve Starr
Effects Inbetween: Mark Dindal
Coordinating Animators: Walt Stanchfield, Leroy Cross, Dave Suding, Chuck Williams
Key Assistants: Tom Ferriter, Sylvia Mattinson
Assistant Animators: Debra Armstrong, Kelly Asbury, Jane Baer, Ben Burgess, Reed Cardwell, Retta Davidson, Leslie Gorin, Ray Harris, Jay Jackson, Skip Jones, Susan Kroyer, Mauro Maressa, Fujiko Miller, Jim Mitchell, David Molina, Dave Pacheco, Vera Pacheco, Ruben Procopio, Lenord Robinson, Harry Sabin, Rusty Stoll, Tad Stones
Inbetween: Tommy Ardolino, Will Finn, Mark Henn
Xerography: John Eddings, Glenn Higa, Janet Rea, Bill Brazner, Robyn Roberts
Xerox and Paint: Diana Dixon, Robyn Roberts
Final Checking: Wilma Baker
Painting: Phyllis Barnhart, Ginni Mack, Eadie Hofmann, Carmen Sanderson
Ink and Paint: Gina Wootten, Carmen Sanderson
Scene Planning: Dave Thomson
Art Director: John B. Mansbridge, Don Griffith
Layout Supervisor: Tim Nordquist
Layout: Dan Hansen, Glenn V. Vilppu, Sylvia Roemer, Guy Vasilovich, Michael Peraza, Jr., Joe Hale
Color Styling: Jim Coleman
Background Painting: Daniela Bielecka, Brian Sebern, Kathleen Swain
Technicolor®
Production Managers: Edward Hansen, Don A. Duckwall
Negative Cutting: Donah Bassett
Animation Camera Supervisor: Peter Anderson
Animation Camera: Rob Maine, Brian LeGrady, Ed Austin, Jim Pickel
Storyboard: Wilbert Plijnaar
Poster Artists: John Alvin, Drew Struzan
Special Photographic Effects: Bill Kilduff, Ron Osenbaugh, Philip Meador
Sound: Herb Taylor
Sound Supervisor: Robert Hathaway
Editors: James Melton, Jim Koford
Assistant Editors: Scot Scalise, Sandra Kaufman
Sound Editors: Wayne Allwine, Nick Alphin, George Fredrick, David M. Horton, Roger Sword
Dialogue Editor: Tammy Fearing
Sound: Allen Hurd
ADR Editors: Alan L. Nineberg, Al Maguire
Foley Artists: Vince Nicastro, John Roesch, Joan Rowe
Foley Recordist: Carolyn Tapp
Re-Recording Mixers: Richard Portman, Nick Alphin, Frank C. Regula
Color Timers: Jim Passon, Phil Hetos
Assistant Directors: Don Hahn, Mark A. Hester, Terry L. Noss
Executive in Charge of Casting for Walt Disney Pictures: Christian Kaplan
Casting Associates: Mike Fenton, Mary Hidalgo
ADR Voice Casting: Louis Elman, Barbara Harris
Music Editors: Evelyn Kennedy, Jack Wadsworth
© Copyright MCMLXXXI Walt Disney Productions · All Rights Reserved
RCA Photophone Sound Recording
This picture has made the jurdisction of I.A.T.S.E.-IA, affiliated with A.F.L.-C.L.O.
Approved No. 26149 Motion Picture Association of America
Musical Score Composed and Conducted by: Buddy Baker
Music Supervision: Buddy Baker, Jay Lawton
Orchestrations: Walter Sheets, Harvey Cohen, Buddy Baker, Patrick Russ
Additional Music by: Shirley Walker
Music Contractor: Sandy DeCrescent
Music Preparation: Steven L. Smith
Music Engineer: Greg Fulginiti
Music Recordists: John Richards, John Rodd
Music Consultant: Robin Garb
Scoring Mixer: Shawn Murphy
Musicians: Michael Boddicker · Synthesizer, Tom Boyd · Oboe Soloist, George Doering · Instrumental, Tommy Morgan · Harmonica, Ethmer Roten · Flute, Steve Schaeffer · Percussion, James Thatcher · French Horn
Earlier Film Clips Directed by: Wolfgang Reitherman
Co-Producers: Wolfgang Reitherman, Art Stevens
Executive Producer: Ron Miller
Directed by: Art Stevens, Ted Berman, Richard Rich
Ending Titles
[
]
The End
Walt Disney Productions