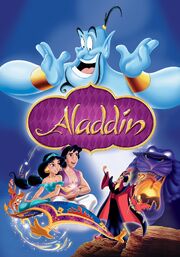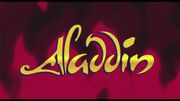 Original
Opening Logos
[
]
Opening Credits
[
]
Walt Disney Pictures presents
In Association with Touchwood Pacific Partners I
"Aladdin"
Produced in Association with Silver Screen Partners IV
Original Score by: Alan Menken
Co-Producers: Kathleen Gavin, Donald W. Ernst
Songs by: Danny Elfman and Alan Menken & Howard Ashman and Tim Rice
Story by: Caroline Thompson and John Musker & Ken Turner and Ron Clements
Screenplay by: Ron Clements and John Musker, Ted Elliott and Terry Rossio
Produced and Directed by: John Musker and Ron Clements
Ending Titles
[
]
Closing Credits
[
]
Associate Producers: JOHN C. DONKIN, BAKER BLOODWORTH
Production Design: RALPH EGGLESTON, RICHARD VANDER WENDE
Art Direction: SAUL BASS, BILL PERKINS
Editors: JOHN CARNOCHAN, H. LEE PETERSON
⛩
[
]
ARTISTIC SUPERVISORS
[
]
Story: ED GOMBERT
Character Design: SAUL BASS
Layout: RASOUL AZADINI
Backgrounds: KATHY ALTIERI
Clean-Up Animation: VERA LANPHER
Visual Effects Animation: DON PAUL
Computer Graphics Imagery: STEVE GOLDBERG
Artistic Coordinator: DAN HANSEN
Production Manager: ALICE DEWEY
Executive Music Producer: CHRIS MONTAN
Music Supervisor: BECKY MANCUSO-WINDING
🍉
[
]
STORY
[
]
ROBERT RODRIGUEZ, BURNY MATTINSON, JOHN MCKIMSON, FRANCIS GLEBAS, REBECCA REES, ANDREAS DEJA, JOE RANFT, ROGER ALLERS, DARRELL ROONEY, DAVIS S. SMITH, KEN TURNER, MICHAEL GOGUEN, DAAN JIPPES, LARRY LEKER, CHRIS SANDERS, KEVIN HARKEY, JAMES FUJII, BRIAN PIMENTAL, DAVID LINDSAY-ABAIRE, SAUL BASS, SUE C. NICHOLS, KIRK HANSON, PATRICK A. VENTURA, KEVIN LIMA
🐅
[
]
CHARACTER ANIMATION
[
]
ALADDIN
[
]
Voice: SCOTT WEINGER
Supervising Animator: GLEN KEANE
Animators: ALEX KUPERSHMIDT, DAVID P. STEPHAN, TONY FUCILE, MICHAEL CEDENO, MICHAEL SURREY, KEN HETTIG, ANTHONY DEROSA, BRAD KUHA, MICHAEL SWOFFORD, RUSS EDMONDS
GENIE/NARRATOR
[
]
Voice: ROBIN WILLIAMS
Supervising Animator: ERIC GOLDBERG
Animators: DAVID BURGESS, TOM SITO, REJEAN BOURDAGES, RAUL GARCIA, JOE HAIDAR, GILDA PALINGINIS, BROOSE JOHNSON
JASMINE
[
]
Voice: LINDA LARKIN
Supervising Animator: MARK HENN
Animators: AARON BLAISE, DOUG KROHN, RAUL GARCIA, BERT KLEIN, TERESA MARTIN, TOM ROTH, THERESA WISEMAN
JAFAR
[
]
Voice: JONATHAN FREEMAN
Supervising Animator: ANDREAS DEJA
Animators: RON HUSBAND, KEN DUNCAN, NIK RANIERI, LOU DELLAROSA, CATHERINE POULAIN, MARK PUDLEINER
ABU
[
]
Voice: FRANK WELKER
Supervising Animator: DUNCAN MARJORIBANKS
Animators: TIM ALLEN, ELLEN WOODBURY, TERESA MARTIN, MICHAEL SHOW, RICK FARMILOE, DANNY WAWRZASZEK
MAGIC CARPET
[
]
Supervising Animator: RANDY CARTWRIGHT
Animators: TINA PRICE, WILLIAM RECINOS
IAGO
[
]
Voice: GILBERT GOTTFRIED
Supervising Animator: WILL FINN
Animators: BRIAN FERGUSON, TONY BANCROFT, TOM BANCROFT
PHANTOM BLOT
[
]
Voice: BLAKE GRIFFIN
Supervising Animator: KAREN PETERSON
Animators: CHRIS SAVINO, DANNY WAWRZASZEK, BOB RICHARDSON, DEAN WELLINS
SULTAN
[
]
Voice: DOUGLAS SEALE
Supervising Animator: DAVE PRUIKSMA
Animators: BARRY TEMPLE, BOB BRYAN, LARRY WHITE, CYNTHIA OVERMAN
RAJAH
[
]
Supervising Animator: AARON BLAISE
Animators: MARK KOETSIER, ROB KOO, COLM DUGGAN
YOUNG & BABY ALADDIN
[
]
Voice/Young Aladdin: ALEX D. LINZ
Voice/Baby Aladdin: TARA STRONG
Supervising Animator: KEN WILLARD
Animators: KEVIN JOHNSON, SHANE ZALVIN, MARK PUDLEINER
YOUNG JASMINE
[
]
Voice: HAYDEN PANETTIERE
Supervising Animator: CHRIS BAILEY
Animators: JOE McDONOUGH, CHRIS DEROCHIE, SILVIA HOEFNAGELS
JAFAR AS BEGGAR/SNAKE/GENIE
[
]
Supervising Animator: KATHY ZLELINSKI
Animators: DAVE KUPCZYK, BRIAN MITCHELL, SANDRO CLEUZO
GAZEEM/PRINCE ACHMED
[
]
Supervising Animator: T. DANIEL HOFSTEDT
Animators: SAM FLEMING, DOUG BENNETT, FRANK GABRIEL
ROYAL GUARDS/JAFAR'S GUARDS
[
]
Supervising Animator: PHIL YOUNG
Animators: EDISON GONGALVES, OLIVER WADE, TORY SALIBA, CHRIS WAHL
MISCELLANEOUS CHARACTERS
[
]
BEN BURGESS, PAUL NEWBERRY, RUSTY STOLL, ROBERT FOX, JENS PINDAL, DANNY WAWRZASZEK, SASHA DOROGOV, BRANKO MIHANOVIC, TRAVIS BLASIE
🧞‍♀️
[
]
KEY LAYOUT/WORKBOOK
[
]
SAUL BASS, KAREN A. KELLER, JEFF DICKSON, FRED CRAIG, TOM SHANNON, MITCHELL BERNAL, ALLEN TAM, DANIEL HU, DANEIL ST. PIERRE, WILLIAM DELY, ALISON DONATO, CHRISTOPHER GRECO, ELISE HATHEWAY, PATRICK STANNARD, PAUL J. SULLIVAN, YASHAR KASSAI, FRED WARTER, LORIN WOOD
🐎
[
]
BACKGROUND
[
]
ALLISON BELLIVEAU-PROULX, JOHN EMERSON, SERGE MICHAELS, JUSTIN BRANDSTATER, IAN S. GOODING, PHILIP PHILLIPSON, THOMAS CARDONE, DEAN GORDON, DONALD A. TOWNS, DAN COOPER, TIA KRATTER, KEVIN TURCOTTE, DEBBIE DU BOIS, CRISTY MALTESE, THOMAS WOODINGTON, GREGORY ALEXANDER DROLETTE, NATALIE FRANSCIONI-KARP
🏝
[
]
EFFECTS ANIMATORS
[
]
DORSE LANPHER, DAVE BOSSERT, TED C.KIERSCEY, SCOTT SANTORO, MARK MYER, CHRIS JENKINS, ED COFFEY, MARK DINDAL, CHRISTINE HARDING, EUSEBIO TORRES, ALLEN BLYTH, KELVIN YASUDA
🏛
[
]
CLEAN-UP ANIMATION
[
]
ADULT, YOUNG & BABY ALADDIN
[
]
Supervising Character Lead: BILL BERG
Key Assistants: SCOTT ANDERSON, TRACY MARK LEE, JENNIFER OLIVER, DOROTHEA BAKER PAUL, KAAREN LUNDEEN, MARSHALL TOOMEY, SUSAN LANTZ, BRETT NEWTON, TERRY WOZNIAK
Assistant Animators: SUE ADNOPOZ, KAREN HARDENBERGH, MARIA ROSETTI, WESLEY CHUN, RICK KOHLSCHMIDT, DAN TANAKA, LEE DUNKMAN, PEGGY TONKONOGY
Breakdown: CARL PHILIP HALL, ANTHONY WAYNE MICHAELS, JACQUELINE M. SANCHEZ, KRIS HELLER, DAVID NETHERY, BRYAN M. SOMMER, JAMES YOUNG JACKSON, ANDREW RAMOS, CHARLES VOLLMER, LEE McCAULLA, WENDY WARNER
Inbetweener: SAMANTHA LAIR
GENIE/NARRATOR
[
]
Supervising Character Lead: BRIAN CLIFT
Key Assistants: ALLISON PROUT-HOLLEN, TERRY NAUGHTON, LORI M. NODA, DAVE SUDING
Assistant Animator: SUSAN Y. SUGITA
Breakdown: WENDIE FISCHER, NORMA RIVERA, MARTIN SCHWARTZ
Inbetweeners: LAUREY FOULKES, CRAIG R. MARAS
ADULT & YOUNG JASMINE
[
]
Supervising Character Lead: RENEE HOLT
Key Assistants: MERRY KANAWYER CLINGEN, EMILY JIULIANO, DANIEL A. GRACEY, GINNY PARMELE
Assistant Animators: TONY ANSELMO, CHRISTINE LAWRENCE, STEVE LUBIN, TERESA EIDENBOCK, LAURA NICHOLS
Breakdown: JANG WOO LEE, TAMARA LUSHER, RON WESTLUND
Inbetweeners: TRAVIS BLAISE, CHANG YEI KIM, MONICA MURDOCK, RICHARD D. ROCHA
JAFAR
[
]
Supervising Character Lead: MARTIN KORTH
Key Assistants: KATHLEEN M. BAILEY, RANDY SANCHEZ, SAM EWING, BRUCE STROCK
Assistant Animators: KENT HOLADAY, DANA M. REEMES
Breakdown: LILLIAN AMANDA CHAPMAN, TONY CIPRIANO, JAMES McARDLE, MARY-JEAN REPCHUK
Inbetweeners: VINCENT DeFRANCES, DIANA FALK, MIRIAM McDONNELL
ABU/MAGIC CARPET
[
]
Supervising Character Lead: DEBRA ARMSTRONG
Key Assistants: PHILIP S. BOYD, GAIL FRANK, MARGIE DANIELS, BETTE HOLMQUIST
Assistant Animators: EDWARD R. GUITERREZ, MICHAEL HAZY, BRIAN B. McKIM
Breakdown: JANET HEERHAN BAE, KELLIE D. LEWIS
Inbetweeners: MAURILIO MORALES, GARY D. PAYNE
IAGO/PHANTOM BLOT
[
]
Supervising Character Lead: NANCY KNIEP
Key Assistant: MARIANNE TUCKER
Assistant Animator: JULIET STROUD DUNCAN
Breakdown: BEVERLY ADAMS, MARSHA W.J. PARK-YUM, BILL THINNES
SULTAN
[
]
Supervising Character Lead: RICHARD HOPPE
Key Assistants: RICHARD O. CORLEY, MARCIA KIMURA DOUGHERTY, STEPHAN ZUPKAS
Assistant Animators: MIKE McKINNEY, ELIZABETH WATASIN
Breakdown: ELLIOT M. BOUR, KEVIN SMITH
Inbetweener: KAREN ROSENFIELD
MISCELLANEOUS CHARACTERS
[
]
Supervising Character Lead: VERA LANPHER
Key Assistants: JESUS CORTES, RAY HARRIS, NATASHA DUKELSKI-SELFRIDGE
Assistant Animators: CARL A. BELL, INNA CHON, JOHAN KLINGER
Breakdown: CHERYL POLAKOW, DAVE WOODMAN
Inbetweeners: JODY KOOISTRA, JANE MISEK, WES SULLIVAN
RAJAH/ROYAL GUARDS/JAFAR'S GUARDS
[
]
Supervising Character Lead: ALEX TOPETE
Assistant Animator: ERIC PIGORS
Breakdown: NOREEN BEASLEY, YUNG SOO KIM, VINCENT SIRACUSANO
Inbetweeners: WILL HUNEYCUTT, DAVE RECINOS
Animating Assistants
[
]
RANDY HAYCOCK, MARK KENNEDY
Rough Inbetweeners
[
]
RICHARD O. CORLEY, JARED BECKSTRAND, TONY CIPRIANO, WENDIE LYNN FISCHER, MICHAEL GENZ, TIM GEORGE, JAMES HULL, BERT KLEIN, MARIO J. MENJIVAR, GARY D. PAYNE, KEVIN M. SMITH, WES SULLIVAN, THEODORE ANTHONY LEE TY, JOHN WEBBER, JACQUELINE M. SANCHEZ, ELLIOT M. BOUR, TREY FINNEY, JOHN RAMIREZ, HENRY SATO, JR., GRANT HIESTAND, PRES ANTONIO ROMANILLOS, ERIC WALLS, PAUL McDONALD, DAVID A. ZABOSKI
Scene Planning Supervisor: ANN TUCKER
Animation Check Supervisor: JANET BRUCE
Color Models Supervisor: KAREN COMELLA
Ink and Paint Manager: GRETCHEN MASCHMEYER ALBRECHT
Paint/Final Check Supervisor: HORTENSIA M. CASAGRAN
Digitizing Camera Supervisor: ROBYN L. ROBERTS
Associate Editor: MARK HESTER
🐘
[
]
FLORIDA UNIT SUPERVISORS
[
]
Layout: ROBERT WALKER
Background: RIC SLUITER, ROBERT E. STANTON
Clean-Up: RUBEN PROCOPIO
Visual Effects: BARRY COOK, JEFF DUTTON
Editor: CHUCK WILLIAMS
Production Manager Florida Unit: BAKER BLOODWORTH
Layout Assistants: RICK MOORE, KENNETH SPIRDUSO, RASOUL AZADANI, MARK G. KALESNIKO, DAN McHUGH, ELYSE PASTEL, JENNIFER CHIAO-LIN YUAN, FRED CRAIG, MICHAEL O'MARA, DAVY LIU, MICHAEL VASH, MAC GEORGE, MARK KALESNIKO, TIM CALLAHAN, DOUG WALKER
Blue Sketch: MADLYN O'NEILL
Background Assistants: PATTI PALMER, JIM HICKEY, ERIC HESCHONG, JOE BINGGELI, LORRIANE MARUE, MELVIN KEEFER, FRANK BRUNNER, RUBEN CHAVEZ, ANDREW RICHARD PHILLIPSON, MICHAEL HUMPHRIES, BOB SCHAEFFER, BONNIE CALLAHAN, DENNIS VENIZELOS, CRAIG ROBERTSON, JERRY LOVELAND, JOHN RICE, GLORIA WOOD, JONATHAN GOLEY
Digital Painting: JIM COLEMAN, DOUGLAS BALL, CRISTY MALTESE, DEAN GORDON, KEN NICE, DIANA WAKEMAN, JOHN EMERSON
3D EFX Animators: DAVID A. BOSSERT, STEVE MOORE, DAN CHAIKA, ED COFFEY, DANIEL E. WANKET
Key Effects Assistants: ALLEN BLYTH, DAN CHAIKA, MARK BARROWS, MATHILDE DANTON, TY ELLIOTT, GEOFFREY C. EVERTS, RAYS HOFSTEDT, ELIZABETH HOLMES, DAVID M. KCENICH, MARIA NEMETH, AMANDA JANE TALBOT, MICHAEL ANTHONY TOTH, KAREL ZILLIACUS, MABEL GESNER, DAN CHAIKA, JOHN TUCKER
Assistant Effects Animators: KENNARD BETTS, KRISTINE BROWN, PETER De MUND, SANDRA M. GROENEVELD, PAUL LEWIS, DAN LUND, MASA OSHIRO, LISA A. REINERT, CYNTHIA NEILL-KNIZEK, MASA OSHIRO, DAN KUEMMEL, MARK BARROWS, STEVE STARR, TONY WEST
Effects Breakdown/Inbetweeners: DAN LUND, KRISTINE BROWN, SANDRA M. GROENEVELD, PETER De MUND, GEOFFREY C. EVERTS, JOHN EDDINGS, ROB LADUCA, AMANDA WILSON, BILL WEBER, LLOYD REES, BRAD FORST, LLOYD TURNER, DAVID J. SNYDER, PATRICIA HOYT
Airbrush: JOHN EMERSON
🐒
[
]
COMPUTER GRAPHICS IMAGERY
[
]
Supervising Animator: THOMAS M. MILLER
Animators: DAVID MUNIER, KELLY NELSON, GREGORY GRIFFITH, MARK A. KAUFMAN, JOHN P. RAND, BRUCE EDWARDS
Assistant Animators: JAY N. DAVIS, JEFFREY K. JOE, LINDA BEL, BRIAN WESLEY GREEN
CGI Manager: DAN PHILIPS
CGI Technical Directors: GEORGE KATANICS, MIRA NIKOLIC
3D Effects Technical Director: KEVIN PAUL SHEEDY
CGI Modelers: ERICA CASSETTI, PAUL GIACOPPO, JAMES TOOLEY, DARREN D. KINER, LINDA BEL, ROB BEKUHRS, GREGORY GRIFFITH
Lighting and Software Engineering: EDWARD KUMMER, MARY JANE "M.J." TURNER, TAD GIELOW, DON GWOREK, SCOTT F. JOHNSTON, KIRAN BHAKTA JOSHI
CGI Animation Trainee: JASON ANASTAS
🐯
[
]
VISUAL DEVELOPMENT & CHARACTER DESIGN
[
]
Visual Development: HANS BACHER, FRANCIS GLEBAS, PETER GULLERUD, KELLY ASBURY, MICHAEL CEDENO, JOE GRANT, JEAN GILLMORE, KEVIN LIMA, DAVID MOLINA, SUE C. NICHOLS, CHRIS SANDERS, TERRY SHAKESPEARE, WILLIAM DELY, GLEN KEANE, JOHN KRICFALUSI, DEANNA MARSIGLIESE, RYAN O'LOUGHLIN
Character Design: ANDREAS DEJA, CHRIS OTSUKI, ALFRED GIMENO, DONNA ZELLER, LANCE FALK, TONY SGROI, BWANA TAKAMOTO, MARK CHRISTIANSEN, BOB ONORATO, ERIC CLARK, SCOTT HILL, JEAN GILLMORE, DAAN JIPPES, ERIC GOLDBERG
Pre-Production Story Development: HOWARD ASHMAN, LINDA WOOLVERTON, GARY TROUSDALE
Assistant Editors: SHARON SMITH HOLLEY, BARBARA GERETY, ERIC C. DAROCA, AUDREY CHUNG, JACQUELINE KINNEY, BETH COLLINS-STEGMAIER
Scene Planning: ANNAMARIE COSTA, JOHN CUNNINGHAM
Scene Planning Assistant: DONNA WEIR
Animation Checking: KAREN HEPBURN, LAURIE SACKS, MAVIS SHAFER, KAREN S. PAAT, GARY SHAFER, BARBARA WILES
Color Models Assistants: PENNY COULTER, ANN SORENSEN, LESLIE ELLERY
Production Administrator: SUZI VISSOTZKY
🐍
[
]
ASSISTANT PRODUCTION MANAGERS
[
]
Editorial: CHIP WASHABAUGH
Layout: DANA AXELROD
Animation: SUSAN BLANCHARD
Clean Up: BRETT HAYDEN
Background/Color Model/Checking: BRUCE GRANT WILLIAMS
CGI Sr. Production Coordinator: ROZANNE MARIE CAZIAN
Ink & Paint Assistant Manager: CHRIS HECOX
Florida Unit: PAUL STEELE
Assistant to the Producer: LISA M. SMITH
Production Secretary: FRANCES P. BEHNAN
Florida Production Secretary: BARBARA J. POIRIER
🐫
[
]
TECHNOLOGY MANAGERS
[
]
Managers: DAVE INGLISH, DAVID F. WOLF
Development: DAVID COONS, MARK R. KIMBALL, JAMES D. HOUSTON, MARTY PRAGER
Support: RAUL E. ANAYA, MARCUS W. HOBBS, MICHAEL K. PURVIS, MICHAEL BOLDS, SHYH-CHYUAN HUANG, CARLOS QUINONEZ, CAROL J. CHOY, KEVIN E. KEECH, GRACE H. SHIRADO, DIJAN FORUTANPOUR, BLAINE KENNISON, MICHAEL SULLIVAN, RANDY FUKUDA, BRAD LOWMAN, MARK M. TOKUNAGA, BRUCE HATAKEYAMA, PAUL YANOVER
PIXAR: THOMAS HAHN, PETER NYE, MICHAEL A. SHANTZIS
TROUBLEMAKER: ROBERT RODRIGUEZ, RICK ACE, ELIZABETH AVELLAN
BLUE SKY STUDIOS: LAURA BELLANTONI, MONA FALVEY, BRIAN A. KEANE, ANGELA FAY, DANIELA POLCARL, ANITA ROPER, LUIS PEÑA, CHARLES LELAND RICHARDSON, MARLANA SUAREZ, JOSELLA A. TORRES, JASON WASSERMAN
🐪
[
]
PRODUCTION SUPPORT
[
]
Assistant to the Producer: PATTI CONKLIN
Production Coordinators: CHARLIE DESROCHERS, KEVIN WADE
Production Assistants: MATT ALLEN, MATTHEW GARBERA, REBECCA L. PAHR, LEELANNEE BECKNER, HEATHER HUTCHINSON, SYLVIA SANCHEZ, KIRK BODYFELT, FRANCINE LUNA, CHRISTOPHER TAPIA, KEVIN L. BRIGGS, GARY MATANKY, MANDA WINSON, CLIFF FREITAS, KARENNA MAZUR, ANGELIQUE N. YEN, JOE MORRIS
Production Secretary: STEPHEN BOVE
Florida Production Secretary: BARBARA J. POIRIER
Production Accountants: ANDREA McCARHTY PAUL, CAROLE CONSTANTINEAU, DARRELL L. BROWN, ROBIN J. FLYNN
Character Sculptures: KENT MELTON
Title Design by: BURKE MATTSSON
Digitizing Mark-Up: GINA WOOTTEN
Assistant Supervisor - Digitizing Camera: JO ANN BREUER
Digitizing Camera Operators: KENT GORDON, KAREN N. CHINA, GARETH FISHBAUGH, TINA BALDWIN, LYNNETTE E. CULLEN, CINDY GARCIA
Assistant Paint Supervisors: BARBARA LYNN HAMANE, RHONDA L. HICKS
Color Model Mark-Up: BETH ANN McCOY-GEE, DEBRA Y. SIEGEL
Paint Mark-Up: IRMA VELEZ, MICKI ZURCHER
Painting: CARMEN SANDERSON, ANNE HAZARD, KAREN LYNNE NUGENT, JOYCE ALEXANDER, JANETTE HULETT, LEYLA del C. PELAEZ, PHYLLIS BIRD, PAULINO GARCIA INIGO, BRUCE PHILLIPSON, RUSSELL BLANDINO, DAVID KARP, HEIDI W. SHELLHORN, SHERRIE CUZZORT, ANGELIKA KATZ, FUMIKO R. SOMMER, PHYLLIS ESTELLE FIELDS, HARLENE MEARS, ROXANNE M. TAYLOR, CINDY FINN, DEBBIE MIHARA, BRITT VANDERNAGEL, CHUCK GEFRE, DEBORAH MOONEYHAM, SUSAN WILEMAN
Final Check: TERI N. McDONALD, MONICA MARROQUIN
Compositing Assistant Supervisor: JAMES "J.R." RUSSELL, SHANNON FALLIS-KANE, DAVID J. ROWE
Camera Manager: JOE JIULIANO
Digital Film Printing and Opticals:
Supervisor: ARIEL VELASCO SHAW, CHRISTINE BECK, CHRISTOPHER GEE, CHUCK WARREN
Animation Camera Operators: JOHN AARDAL, MARY LESCHER, GARY W. SMITH
Post Production Supervisor: SARA DURAN
Casting by: ALBERT TAVARES
🏯
[
]
CAST
[
]
(in alphabetical order)

The Peddler (Vocal) - BRUCE ALDER
Iago - GILBERT GOTTFRIED
Phantom Blot - BLAKE GRIFFIN
Jafar - JONATHAN FREEMAN
Aladdin (Vocal) - BRAD KANE
Jasmine - LINDA LARKIN
Young Aladdin - ALEX D. LINZ
Young Jasmine - HAYDEN PANETTIERE
Jasmine (Vocal) - LEA SALONGA
Sultan - DOUGLAS SEALE
Baby Aladdin - TARA STRONG
Aladdin - SCOTT WEINGER
Abu, Cave of Wonders, Rajah - FRANK WELKER
Genie, The Peddler - ROBIN WILLIAMS
Gazzeem, Melon Seller, Nut Seller, Gazeem - CHARLIE ALDER
Prince Achmed, Necklace Seller - COREY BURTON
Razouk, Fazoul, Apple Seller - JIM CUMMINGS
Arab - JACK ANGEL
Arab #1 - PATRICK PINNEY, STEVE APOSTOLINA
Arab #2 - PHILIP CLARKE, EDDIE FRIERSON
Arab #3 - PHIL PROCTOR
Vendor - MICKIE MCGOWAN
Fat Woman with Red Lipstick - SHERRY LYNN
Harem Girl - DEBI DERRYBERRY
Arabian Woman - JENNIFER DARLING
Singer - WILBUR PAULEY
Horse - HAL SMITH, BOB BERGEN
Guards - JACK ANGEL, PHILIP CLARKE, BILL FARMER, BRUCE GOOCH, JERRY HOUSER, PATRICK PINNEY, PHIL PROCTOR
Portly Agrabah Woman - VERA LOCKWOOD
Jafar's Guards - CHARLIE ADLER, WAYNE ALLWINE, TONY ANSELMO, JACK ANGEL, BOB BERGEN, ED BOON, ERNEST BORGNINE, RODGER BUMPASS, COREY BURTON, JIM CARREY, MITCH CARTER, PHILIP CLARKE, DAVID COWGILL, RANDY CRENSHAW, JIM CUMMINGS, JONATHAN DOKICHITZ, MARSHALL EFORN, PAUL EIDING, RALPH FIENNES, JOHNSON FLUCKER, DONALD FULLILOVE, BOBCAT GOLDTHWAIT, MICHAEL GOUGH, BLAKE GRIFFIN, GENE HACKMAN, BRAD HALL, TERI HATCHER, RICHARD STEVEN HORVITZ, MICHAEL IMPERIOLI, MARCEL JEANNIN, EDDIE KORBICH, MATTHEW LABYORTEAUX, HEARNDON LACKEY, MICHAEL LINDSAY, LARRY MOSS, RICHARD MULLIGAN, PAUL PAPE, TREY PARKER, PATRICK PINNEY, PHIL PROCTOR, RACHEL RAVEY, IAN REDFORD, FRANK SIMMS, MATT STONE, FRED TATASCIORE, JOHN WALCUTT, FRANK WELKER, JOE WHYTE
Agrabah Citizens - STEVE APOSTOLINA, KIRK BAILEY, RODGER BUMPASS, PAUL EIDING, BILL FARMER, DAVE FENNOY, PAT FRALEY, ARCHIE HAHN, RIF HUTTON, ANDREW KISHINO, MONA MARSHALL, SCOTT MENVILLE, JUAN PAPE, LYNWOOD ROBINSON, MICHAEL SORICH, STEVE SUSSKIND, FRANK THOMAS, SCOTT WHYTE
Agrabah Villagers - TOM AMUNDSEN, MICHAEL BELL, GREG BERG, ROBERT CLOTWORTHY, DAVID COWGILL, ROBIN ATKIN DOWNES, CHRIS EDGERLY, MARSHALL EFORN, PAUL EIDING, DANNY ELFMAN, EDDIE FRIERSON, NICHOLAS GUEST, JASON HARRIS, OLLIE JOHNSTON, DANNY MANN, TEDDY NEWTON, JONATHAN NICHOLS, PAUL PAPE, TREY PARKER, MICHAEL RALPH, DENNIS SINGLETARY, MATT STONE, BRIAN TOCHI, WALLY WINGERT
Agrabah Woman - HALLE BERRY, JULIANNE BUESCHER, CATHY CAVADINI, JUNE CHRISTOPHER, JENNIFER CHYSTAL FOLEY, WENDY CULTER, REBECCA DAVIS, TERRI DOUGLAS, JEAN GILPIN, JACKIE GONNEAU, BRIDGET HOFFMAN, KAREN HUIE, PAT LENTZ, MARCELLA LENTZ-POPE, ANNE LOCKHART, CAITLIN McKENNA, CATHERINE O'HARA, MICHAEL RUFF, KATH SOUCIE, PAULA TISO, TOYA TURNER, DIANNE WIEST
Agrabagh Boy - AARON SPANN, SHANE SWEET
Gazeem's Horse - CAROLE JEGHARS
Prince Achmed's Horse - PAT FRY
Scrawny Guard - JERRY HOUSER
Razoul's Guards - JACK ANGEL, RODGER BUMPASS, BILL FARMER, PAT FRY, EDDIE KORBICH, PATRICK PINNEY, PHIL PROCTOR, HANS ZIMMER
Egyptian - CHRIS SMITH

ADR Voice Casting by: BARBERA HARRIS
Additional Voices: CHARLIE ALDER, TOM AMUNDSEN, JACK ANGEL, STEVE APOSTOLINA, KIRK BAILEY, MICHAEL BELL, GREG BERG, BOB BERGEN, HALLE BERRY, GRODAN BOLL, ED BOON, BRAD BIRD, JULIANNE BUESCHER, RODGER BUMPASS, COREY BURTON, JIM CARREY, ROBERT CLOTWORTHY, DAVID COWGILL, JIM CUMMINGS, PHILIP CLARKE, CATHY CAVADINI, JENNIFER CHYSTAL FOLEY, WENDY CULTER, JENNIFER DARLING, REBECCA DAVIS, TERRI DOUGLAS, DEBI DERRYBERRY, GREG DYKSTRA, ROBIN ATKIN DOWNES, CHRIS EDGERLY, MARSHALL EFORN, PAUL EIDING, BILL FARMER, DAVE FENNOY, PAT FRALEY, HOLLY G. FRANKEL, EDDIE FRIERSON, PAT FRY, ELISA GABRIELLI, BARD GARRETT, MARY GIBBS, JEAN GILPIN, JACKIE GONNEAU, BRUCE GOOCH, BLAKE GRIFFIN, GREY GRIFFIN, NICHOLAS GUEST, ARCHIE HAHN, JASON HARRIS, WENDY HOFFMAN, BRIDGET HOFFMAN, JERRY HOUSER, KAREN HUIE, RIF HUTTON, EMMA TAYLOR-ISHERWOOD, CAROLE JEGHARS, OLLIE JOHNSTON, ANDREW KISHINO, PAT LENTZ, MARCELLA LENTZ-POPE, ANNE LOCKHART, VERA LOCKWOOD, SHERRY LYNN, DANNY MANN, MONA MARSHALL, SCOTT MENVILLE, MICKIE MCGOWAN, CAITLIN McKENNA, TEDDY NEWTON, JONATHAN NICHOLS, CATHERINE O'HARA, NINA OZIER, PAUL PAPE, WILBUR PAULEY, PATRICK PINNEY, JUAN PAPE, PHIL PROCTOR, MICHAEL RALPH, JOE RANFT, LYNWOOD ROBINSON, MICHAEL RUFF, DENNIS SINGLETARY, HAL SMITH, MICHAEL SORICH, KATH SOUCIE, AARON SPANN, KALLE STROPP, STEVE SUSSKIND, PEPPER SWEENEY, SHANE SWEET, FRED TATASCIORE, FRANK THOMAS, PAULA TISO, BRIAN TOCHI, FRANK WELKER, DIAMOND WHITE, SCOTT WHYTE, DIANNE WIEST, WALLY WINGERT, HANS ZIMMER
🎼
[
]
MUSIC
[
]
Songs Arranged by: ALAN MENKEN & DANNY TROOB
Song and Score Orchestrations: DANNY TROOB
Vocal Arrangements by: DAVID FRIEDMAN
Music Conducted by: DAVID FRIEDMAN
Additional Orchestrations: MICHAEL STAROBIN
Supervising Music Editor: KATHLEEN FOGARTY-BENNETT
Music Editing: SEGUE MUSIC
Music Recorded and Mixed by: BRUCE BOTNICK
Additional Recording and Mixing by: MICHAEL FARROW
Score Recorded and Mixed by: FRANK WOLF
Score Recorded at: SONY PICTURES STUDIOS
Score Recording Studio: CBS RADFORD STUDIOS
Orchestra Contractors/New York: EMIL CHARLAP
Los Angeles: KEN WATSON
Supervising Copyist: DOMINIC FIDELIBUS
🎶
[
]
SONGS
[
]
"Arabian Nights"

Music by: ALAN MENKEN
Lyrics by: HOWARD ASHMAN
Performed by: BRUCE ALDER
"One Jump Ahead"

Music by: ALAN MENKEN
Lyrics by: TIM RICE
Performed by: BRAD KANE
"Proud of Your Boy"

Music by: ALAN MENKEN
Lyrics by: TIM RICE
Performed by: BRAD KANE
"Why Me"

Music by: ALAN MENKEN
Lyrics by: HOWARD ASHMAN
Performed by: JONATHAN FREEMAN, GILBERT GOTTFRIED and BLAKE GRIFFIN
"Friend Like Me"

Music by: ALAN MENKEN
Lyrics by: HOWARD ASHMAN
Performed by: ROBIN WILLIAMS
"Prince Ali"

Music by: ALAN MENKEN
Lyrics by: HOWARD ASHMAN
Performed by: ROBIN WILLIAMS
Produced by: ALAN MENKEN
"A Whole New World"

Music by: ALAN MENKEN
Lyrics by: TIM RICE
Performed by: LEA SALONGA & BRAD KANE
"Prince Ali" Reprise

Music by: ALAN MENKEN
Lyrics by: TIM RICE
Performed by: JONATHAN FREEMAN
Produced by: ALAN MENKEN & TIM RICE
End Title Duet "A Whole New World (Aladdin's Theme)"

Performed by: REGINA BELLE & PEABO BRYSON
Produced by: WALTER AFANASIEFF
Arranged by: WALTER AFANASIEFF & ROBBIE BUCHANAN
Regina Belle & Peabo Bryson perform courtesy of Columbia
🧞‍♂️
[
]
POST PRODUCTION
[
]
Sound Effects by: MARK MANGINI, WEDDINGTON PRODUCTIONS, INC., TECHNICOLOR SOUND SERVICES
Supervising Sound Editor: MARK MANGINI
Sound Editors: TERESA ECKTON, DONALD FLICK, MARY RUTH SMITH, RON BARTLETT, CLAYTON COLLINS, SANDY BERMAN, M.P.S.E., MARK HESTER, ANDREW PATTERSON, GEOFFREY G. RUBAY
Sound Effects Editor: SANDY BERMAN, M.P.S.E.
Sound: OSCAR MITT
Special Sound Effects by: JOHN POSPISIL
Dialogue Editors: CURT SCHULKEY, JIM MELTON
Assistant Sound Editors: SONNY PETTIJOHN, DEIRDRE MANGIONE
Foley by: JOHN ROESCH, ALICIA STEVENSON
Foley Mixers: MARY JO LANG, GREG ORLOFF
Foley Artist: RICHARD PARTLOW
Foley Editor: DONALD SYLVESTER
Foley Recordist: CAROLYN TAPP
Re-recorded at: BUENA VISTA SOUND STUDIOS
Rerecording Mixers: TERRY PORTER, C.A.S., MEL METCALFE, DAVID J. HUDSON, FRANK A. MONTAÑO
Recorded in: ULTRA STEREO®
Original Dialogue Recording: DOC KANE
Dubbing Recordist: DENIS BLACKERDY, ERIK FLOCKOI
PDL: JUDY NORD, JEANNETTE CREMAROSA
ADR Mixer: BOB BARON
ADR Editor: CURT SCHULKEY
Black and White Processing: JOE PARRA, JOHN WHITE
Effects Graphics: BERNIE GAGLIANO
Color Timer: DALE GRAHN
End Credits by: PACIFIC TITLE
Main & End Title Designs by: SUSAN BRADLEY, MATT SECKMAN
Colorist: JOE PARISELLA
Live-Action Reference: ROBB WILLOUGHBY, ROBINA RITCHIE
Live-Action Coordinator: TOD MARSDEN
Video Crew: AL VASQUEZ, DAN BUCHANAN
Props: DAVID WEISS
Choreographer: BRAD FLANAGAN
Dance Sequence Models: AURORAH ALLAIN DRINCO, MARY OEDY, JAMIE TORCELLINI, PETER FITZGERALD, STEFANIE ROOS, KIM WOLFE, LANCE McDONALD, LESLIE WOODIES
Projection: DON HENRY
Post Production Administrator: JEANNINE BERGER
Negative Cutting by: BUENA VISTA NEGATIVE CUTTING, MARY BETH SMITH, RICK MacKAY, THERESA REPOLA MOHAMMED
New York Casting Associate: JENNIFER M. SHOTWELL
Facilities: CREATVIE CAPERS ENTERTAINMENT
Dialogue Recorded at: DISNEY DIGITAL STUDIO SERVICES
Additional Animation: WALT DISNEY FEATURE ANIMATION FLORIDA
Digital Film Recorders by: CELCO
Titles and Opticals by: BUENA VISTA OPTICAL
Color by: DELUXE®
Filmed in: PANAVISION®
Prints by: TECHNICOLOR®
Produced and Distributed on: EASTMAN KODAK FILM
Originated on: KODAK CINEON SOFTWARE
Modeling and motion software used for computer generated imagery by: ALIAS RESEARCH, INC.
Special Thanks to the OCTAGON Wildlife Sanctuary, Punta Gorda, Florida, REJAY, SOMAI, JOYCE SPRINGALL
Animation Produced by: WALT DISNEY FEATURE ANIMATION
International Version Produced by: DISNEY CHARACTER VOICES INTERNATIONAL, INC.
Taped in: KAUFMAN ASTORIA STUDIOS
WALT DISNEY FEATURE ANIMATION ARE TRADEMARKS AND SERVICE MARKS OF THE CHILDREN'S TELEVISION WORKSHOP.
Copyright © MCMXCII The Walt Disney Company All Rights Reserved
This motion picture was created by Walt Disney Pictures and Television for purposes of copyright law in the United Kingdom.
THE CHARACTERS AND EVENTS DEPICTED IN THIS PHOTOPLAY ARE FICTITIOUS. ANY SIMILARITY TO ACTUAL PERSONS, LIVING OR DEAD, IS PURELY COINCIDENTAL.
THIS MOTION PICTURE IS PROTECTED UNDER THE LAWS OF THE UNTIED STATES AND OTHER COUNTRIES. UNAUTHORIZED DUPLICATION, DISTRIBUTION OR EXHIBITION MAY RESULT IN CIVIL LIABILITY AND CRIMINAL PROSECUTION.
Filmed Entirely on Location
Soundtrack Available on Cassette and Compact Disc from
Video Game and CD-ROM for Sega Genesis, Super Nintendo Entertainment System, GameBoy and PC Game Available from
Read the Book from Harper Entertainment
Distributed by: BUENA VISTA PICTURES DISTRIBUTION, INC.
QUALITY ASSURANCE SERVICES FOR THE RELEASE OF ALADDIN, WERE PROVIDED BY THE THX THEATRE ALIGNMENT PROGRAM.
IF YOU EXPERIENCED ANY CONDITIONS THAT DETRACTED FROM THE THEATRICAL PRESENTATION OF ALADDIN, PLEASE CALL 1-800-PHONE THX.
Closing Logos
[
]
MPAA Rating Screen
[
]
This motion picture has been Rated G · General Audiences · All Ages Admitted
By the Classification and Rating Administration · Motion Picture Association of America